Published on March 22, 2021 by Ashley Smith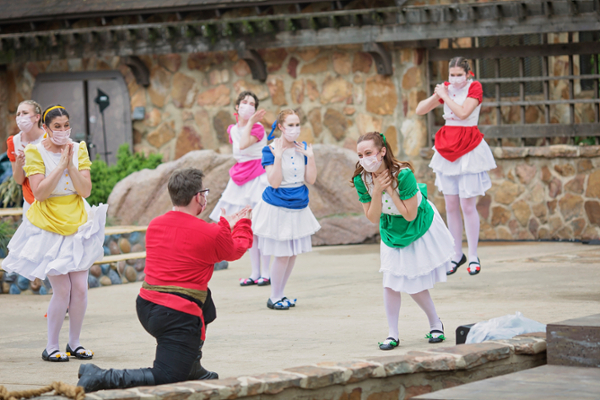 "Samford's partnership with Opera Birmingham is in full bloom during their production of The Pirates of Penzance with ten current students performing, in both lead and ensemble roles," said Kristin Kenning, director of Samford Opera and is serving as the director of this production.

"We have been building our relationship with Samford Opera, especially this year with the launch of the Opera Birmingham Studio at Samford University," said Keith Wolfe, general director of Opera Birmingham. Opera Birmingham Studio is a two-year program that allows singers to enroll in Samford University's graduate vocal performance program while simultaneously receiving professional performance opportunities with Opera Birmingham's season.  
"As we started thinking about a show this spring, it was a natural opportunity to reach out to Dr. Kenning and Samford alumnus John Robertson and see if we might be able to create a show together.  The students have been so creative and adapting like pros to the unique challenges of performing in these circumstances.  I'm so proud of everyone and can't wait to share this show with our audiences," Wolfe said.
Samford students have worked with Opera Birmingham in many capacities, allowing them to gain invaluable professional exposure while at Samford.  "The opportunity for our students to rehearse and perform with professional performers is inspiring, uplifting, and catalyzing for their own careers.  In addition to current students, there are ten other Samford faculty, staff, and alumni involved in the production," said Kenning.
Gilbert and Sullivan's The Pirates of Penzance is a comic opera packed full of sentimental pirates, blundering policeman, absurd adventures and improbable paradoxes. The show times will be April 10 at 2 and 5 p.m., April 11 at 2 p.m. Tickets available through Opera Birmingham. 
For over 60 years, Opera Birmingham has produced world-class operatic productions and concerts for the Birmingham area. "Opera Birmingham is leading the arts revitalization of Birmingham, and we are thankful to be a part of it!  We hope that our Samford community can join us in the beautiful Avondale Park Amphitheater to celebrate music, live performance, and spring!" said Kenning. 
The Samford Opera season is generously sponsored by Dr. Chandler and Jane Paris Smith.  The season typically includes a large scale opera production along with an opera workshop series.