Samford is now offering a new Bachelor of Science in game design and 3D animation as a collaborative degree with the School of the Arts and the Department of Math and Computer Science of Howard College of Arts and Sciences. This degree builds off current courses with seven new major classes. With this technology-rich major, students will learn character-focused 3D animation storytelling, live-rendering game engine programming, 3D modeling, programming and other digital 3D technical specialty skills.
Is this Major Right for Me?
This new degree provides students with the background and skills to work in the video and gaming industry. Are you interested in coding and creating video games, 3D animation and storytelling? Students will gain a strong foundation in art and technology.
What Will I Learn?
Principles of 3D Animation (ART 291)
In this character-focused animation course, students develop a sense of timing, staging, fluid movement, blocking and expressive performance in character animation. Technical software understanding is developed with a focus on the principles of animation to create effective acting and facial expressions with lip-synch.
Principles of 3D Game Art (ART 292)
Students develop the core skills of 3D production, the principles of modeling and texturing assets. In this course, students will explore the creation of 3D assets specifically designed for integration into a game engine.
Intermediate 3D Production Art (ART 391)
Students refine skills in 3D art—creating complex organic and hard surface models for video games, 3D animations and visual effects. In this course, students cultivate digital sculpting skills and other advanced concepts as they produce high resolution characters and environments with aesthetic appeal.
Advanced 3D Production Art (ART 395)
Students explore methods and processes for creating advanced assets of a short-animated film or video game. This course prepares students for professional situations through the creation of individual assets in relation to the student's aspirations in the industry.
Game and Animation Development Studio (ART 495)
Through hands-on experience, students will apply their skills to create an animated short or video game. This class provides a sense of immersion into the industry with a simulated professional environment. Students will gain experience in content creation within a limited resource environment, with an emphasis on production-oriented goals in order to provide students with the professional skills needed to work with others in a production pipeline.
Game Design and Programming (COSC 260)
This course focuses on core principles and helps students understand the mechanics that make up the practice of applied game design. Students will use real-time rendering software to design and program immersive game environments. Through in- class exercises and design projects, students will develop many of the active systems and mechanics utilized in contemporary game design and will use a variety of acknowledged industry methods of documentation to present and formalize their designs.
Game Tech and Programming (COSC 360)
Students will employ professional techniques and practices to program and design their own conceptual game employing complex materials, particles and environmental effects using a real-time game engine. Using industry standard methodologies, students will design an original game that pushes them into practical, theoretical, controversial and abstract principles and applications within the cognitive art of game tech, design and programming. Students completing this course are prepared for careers in the video game industry as programmers, game designers and game techs.
Career Opportunities
The median annual wage for multimedia artists and animators was $72,520 in May 2018. Employment of multimedia artists and animators is projected to grow 8% from 2018 to 2028. Projected growth will be due to increased demand for animation and visual effects in video games, movies and television.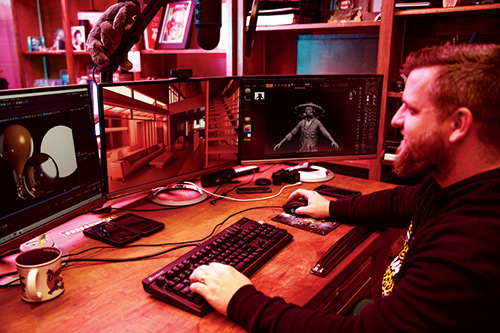 Animator
Game Designer
Modeler
Rigger/Technical Director
Storyboard Artist
Visual Effects
Faculty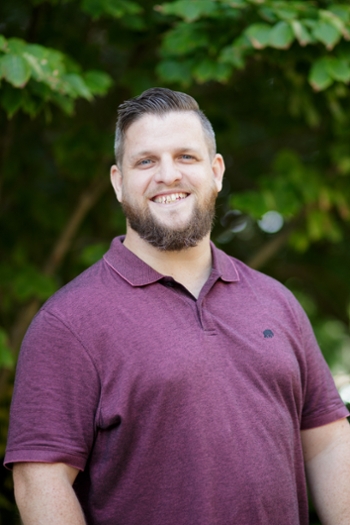 Samford is launching this degree with industry knowledgeable faculty. Digital designer Wink Winkler brings years of experience to the program. His resume includes projects for Universal Studios, Amazon TV and Theory Studios. He continues to work in the industry to keep abreast of the marketplace and ensure that our program adjusts.
Technology Requirements
Our faculty are committed to bringing students the best quality educational experiences. Due to the technological nature of art & design, it necessary for students to have a personal computer which is able to support creative software. This requirement allows students to work independently and integrate digital technologies into their learning.