Interior Design Major
The Department of Interior Architecture offers a major in Interior Design leading to a Bachelor of Fine Arts degree. Within the Interior Design curriculum, all students in the major also complete a Fine Art minor. The department also offers a non-degree seeking concentration in Pre-Architecture.
Overview
The Interior Design major and the Pre-Architecture concentration students share a common curriculum for the first two years of study. These foundation courses introduce applicable theory and skills, preparing the students for a more specific design direction: interior design or architecture.  (See pathways chart, below.)  As mentioned above, the Bachelor of Fine Arts in Interior Design curriculum includes a minor in Fine Art.  The BFA in Interior Design is accredited by CIDA (the Council for Interior Design Accreditation).
The Pre-Architecture concentration is a two-year, non-degree plan. Students choosing Pre-Architecture, and meeting admission requirements, may transfer seamlessly into the Bachelor of Arts in Architecture at Judson University, Elgin, Illinois, and continue into that school's Masters of Architecture, a NAAB-accredited architectural program. This is the result of collaboration between Samford and Judson, with an articulation agreement outlining such.  Pre-Architecture students who choose to remain at Samford University and complete the Bachelor of Fine Arts in Interior Design can then pursue the Masters of Architecture degree program at Judson University or at other universities that offer similar programs of study, pending application and acceptance.
Mission
The mission of the Department of Interior Design is to foster student learning that incorporates a holistic approach integrating design with architecture, stresses the three-dimensional use of space, considers the users' awareness and experience of space, and instills a passion for good design that can shape and influence society for good.
Program Objectives
+
In support of the mission, the program seeks to: 
Produce graduates that combine aesthetic values with practical needs and realities
Produce graduates that communicate – written, orally, and graphically – a passion for good design
Produce graduates that can apply their liberal arts education to create design solutions that express social, ecological and cultural awareness and globalization
Produce graduates that utilize their talents and training to develop design solutions that protect and enhance the quality of life of the users
Produce employable graduates at a professional level
Interior Design Student Organization
The Interior Design Student Organization (IDSO) provides enrichment activities, professional connections, and service opportunities to Interior Design students. Comprised of students from all grade levels, IDSO provides a variety of student organized programs and activities. IDSO works closely with professional organizations such as the International Interior Design Association and the American Society of Interior Designers to involve students in the local design community. The organization also regularly volunteers both in the community and within our own department to complete a number of service projects. The IDSO represents the Department as an IIDA Campus Center.
Enrollment and Graduation
Our students have consistently demonstrated success in both advancing through the degree program and in finding employment — usually related to the major, and always benefiting from the skills they gain during their Samford experience. The program is demanding but fulfilling, and each class forms a strong bond of supportive community and growth, creating friendships that endure after graduation.
Resources
The American Society of Interior Designers (ASID)
Environmental Design Research Association (EDRA)
Council for Interior Design Accreditation (CIDA)
The International Interior Design Association (IIDA)
Interior Designers of Canada (IDC)
The Interior Design Educators Council, Inc. (IDEC)
The International Federation of Interior Designers (IFI)
The National Council for Interior Design Qualification (NCIDQ)
Alabama Interior Design Coalition (AIDC)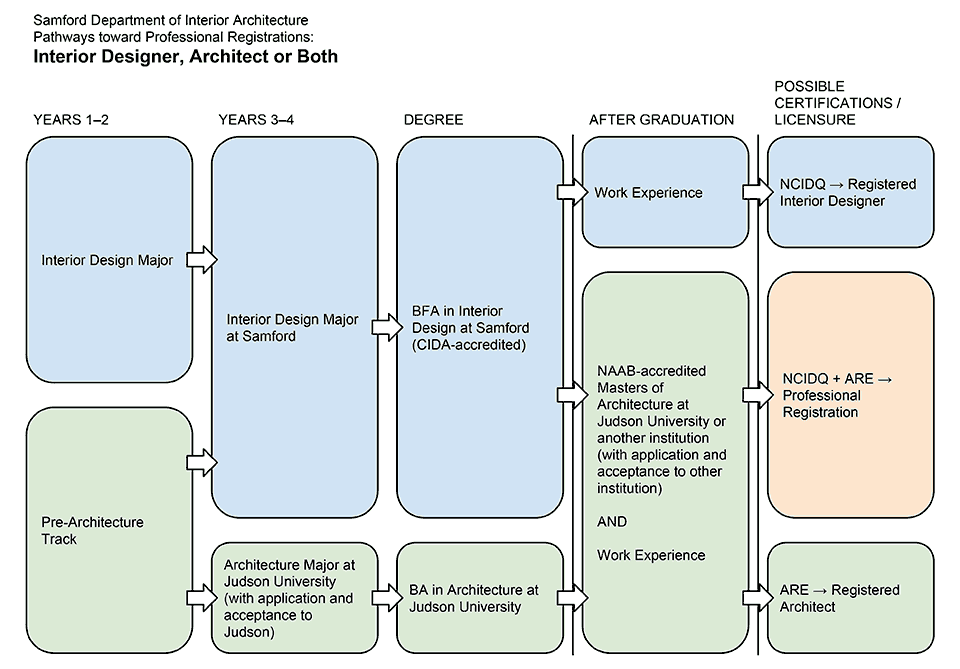 Samford School of the Arts Interior Design Handbook