Published on December 30, 2018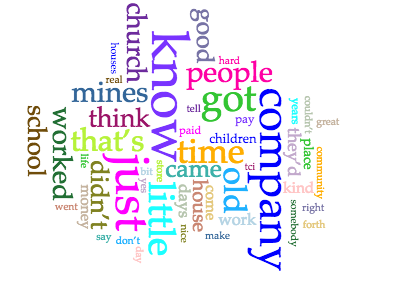 "Yes, I think that we are closer together because we shared our hardships together. And when it eased off, we're still sharing together. If a house gets burned up, we all just put together and soon we have them started again. So, we use a lot of togetherness because in the times of hardship and tribulation, we had to be together—the only way of surviving."
Chapters
A History of Docena (prepared by Christine Cochran)
Christine Cochran reads her written summary of Docena's history, as well as its condition at the time of recording in 1979.
Building in Docena
Christine Cochran describes some of the buildings in Docena, including the church, the houses, and the school. She also explains the clacker system in Docena.
Social Life in Docena
Christine Cochran discusses race relations and describes some of the social activities that the Docena community participated in.
The Mines and Unionization
Christine Cochran describes work in the mines before the union and the process of unionization.
TCI Services in Docena
Christine Cochran explains details of some of the services TCI provided, including the schools and medical care. She also recalls what happened after the mines closed and TCI left Docena.
Welfare and TCI Discipline
Christine Cochran discusses welfare, home life, and the disciplinary measures that the company employed. She also describes the shooting of Mr. Helton, the company sheriff.
School, the Commissary, and the Mail System
Christine Cochran explains leadership at the Docena school, the items sold at the commissary, and the system through which mail arrived at Docena.
Church Life
Christine Cochran describes the old church community and details the activities at the old community center.
Youth Activities and School
Christine Cochran recalls some of the methods of entertainment for the young people in Docena, and gives her thoughts on schools of the past compared with schools of the present.
Church Discipline
Christine Cochran explains the disciplinary measures taken by the church, and the role of women in the church in the past and present.
Final Thoughts
Christine Cochran relates more details about Docena, including Christmas traditions, upkeep of the company houses, and the community's service in wars.
Transcript
Audio Information

| Attribute | Value |
| --- | --- |
| Interviewee | Christine Cochran |
| Repository | Samford University Oral History Collection |
| Accession | SUHist/TCI/001 |