Published on December 30, 2018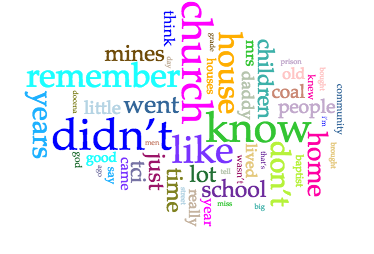 ". . . well coal miners are coal miners at heart, wherever they are. They're facing danger every day, so it brings them closer together."
Chapters
Moving to Docena
Melba Kizzire describes her first impressions of Docena as a child, comparing it to her rural background in Blount County.
Docena Housing and Other Buildings
Melba Kizzire describes the community's housing and the dangers of house fires, as well as detailing other buildings in Docena, such as the clubhouse and the outhouses.
Education in Docena
Melba Kizzire recalls the education system in Docena and the teachers who had the most impact on her as a child.
The Commissary
Melba Kizzire explains the amenities that TCI provided, especially the commissary, and recalls learning cooking, sewing, and music.
The Mines and Strikes
Melba Kizzire and Edna Mae Plunkett recall a particularly hard year in Docena.
Legends and Superstitions in Docena
Melba Kizzire recalls commons superstitions about the mine and local ghost stories.
The Commissary and Entertainment
Melba Kizzire recalls the community's preference of the commissary over outside stores and describes some of the common methods of entertainment for the children.
Church Activities
Melba Kizzire recalls the central role of the church in the lives of Docena children and cooperation among the various denominations.
Medical Care, Politics, and Law Enforcement
Melba Kizzire discusses Docena's medical care and leaders in the community, including law enforcement.
The Volunteer Fire Department
Melba Kizzire recalls the dangers of fires and the efforts of Docena's fire brigade.
Before TCI
Melba Kizzire summarizes her findings about the Docena area before TCI took ownership of the mine.
Closing Remarks
Melba Kizzire makes some closing remarks about her love for the Docena community and its hospitality.
Transcript
Audio Information

| Attribute | Value |
| --- | --- |
| Interviewee | Melba Wilbanks Kizzire |
| Repository | Samford University Oral History Collection |
| Accession | SUHist/TCI/003 |