Published on June 14, 2017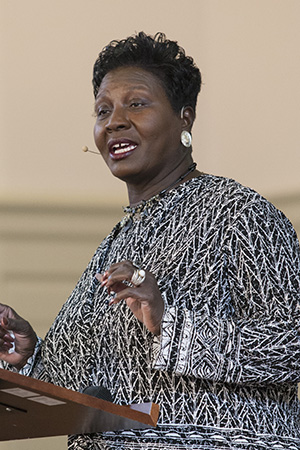 "I was not greeted by hecklers. I was greeted by Martha Ann Cox."
Chapters
Introductions
Elizabeth Ragland introduces her story, and talks about her time before Samford and Civil Rights.
Growing up in Birmingham; Civil Rights and Coming to Samford University
Ragland talks about her early life in Birmingham and the people who influenced her decision to come to Samford University.
Arriving at Samford
Ragland talks about her first experience at Samford University.
Activities on Campus; Motivation and Community Support.
Ragland talks about her activities at Samford, as well as what motivated her at school.
The Changes that have been Made
Ragland discusses what she sees as changes that have been made in the lives of African American students at Samford since her time as a student.
Triumph and Tragedy; Shared Experiences
Ragland talks about how triumph and tragedy has shaped her life, and how such events create shared experiences between people.
Education should be Transformative
Ragland explains why education is a transformative experience based on the new ideas that people are exposed to.
"I'm just glad that I'm here."
Ragland talks about the lasting impression that Samford has on her and others.
Closing Remarks
Ragland talks about working together to make a difference is how people can continue to causes change.
Transcript
Audio Information

| Attribute | Value |
| --- | --- |
| Repository | Samford University Oral History Collection |
| Collection | STORI Collection |
| Accession | SUHist/SamfordHistory/007 |