About Classics
Majors in classics, Greek, and Latin provide students with the opportunity to pursue a course of study that covers a variety of Greek and Latin prose and poetry in the original languages, as well as the history and culture of the classical world and its importance for the 21st century. While the Greek major and the Latin major allow students to concentrate their undergraduate program around the mastery of a single language, the classics major encourages training in both Greek and Latin.
"Being a classics major at Samford allowed me to explore concepts that positively impacted my profession and forever changed my path. The professors were dynamic yet deeply caring and the subject matter changed the whole world, so clearly it can change a life. I have never once regretted being a classics major. It was the best indoor education that I could have received." Jennifer Pharr Davis, record-setting Appalachian trail hiker, author of
Becoming Odyessa and Called Again, Founder, Blue Ridge Hiking Company
Each of these majors would be an appropriate program of study to prepare a student for graduate study in classics or ancient history, but they are also designed for students pursuing a broad program of study as a background for graduate programs in the humanities and professional programs in fields such as medicine, dentistry, theology, and law. Likewise, a minor in classics, Greek, or Latin can strengthen the majors and degrees throughout the College of Arts and Sciences and the university by supporting and complementing the many disciplines that draw on the classics.
Watch how classics students spend their day at an olive farm in Greece.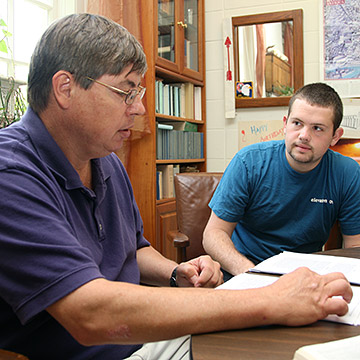 Samford classics works to open the ears of twenty-first century Alabama to the voices of our Greek and Roman inheritance, the legacy of Western thought and the Christian church that speaks to us of who we have been, who we are, and who we can become. Stephen R. Todd, Professor and Chair, Department of Classics and Philosophy

Students who major or minor in Greek, Latin or the classics at Samford University will discover a new world offering the wisdom of ages past.  With a key that unlocks the universe of the Ancient Greeks and Romans, students will open a door leading to adventures in history, literature, philosophy, archaeology, theater, poetry-the breadth of human experience as lived by Homer, Socrates, Plato, and Paul as well as by Cicero, Julius Caesar, Augustus and Augustine.
Exploring the civilizations centered at Rome and Athens will rigorously educate you as you dissect patterns of language, study the structure of an epic poem, or analyze the material remains of a Roman fortress.  Your friends and family will wonder at your academic courage, while graduate schools and employers will know and respect that you have willingly faced an intellectual challenge.
About Philosophy
The degrees offered in Samford's philosophy program equip students to think in an informed and reflective way about the perennially important issues of life—morality, the nature of truth and reality, how we know the world, beauty and art, faith and reason, evil and suffering, justice and society. Students learn to formulate opinions on these issues by engaging the best representatives in the history of philosophy, and develop the skills of inquiry, analysis, communication, and decision-making that will distinguish them in any profession. Our majors earn prestigious fellowships, attend top graduate programs and answer callings in disciplines ranging from business and ministry to education and health care.
Most classes I have taken taught me about the world– about civilizations and nature, art and engineering. But in Samford's philosophy classes, I learned about myself– my intellectual heritage, my role in society, the limits of my knowledge. Majoring in a science honed the technical skills I routinely use now, but majoring in philosophy made me a better friend, husband and citizen. Stephen Bailey, Ph.D. candidate in Educational Neuroscience, Vanderbilt University
In the philosophy program we focus on these questions and how they have been answered over the 2,500 year history of philosophical discussions. Our students learn to read, discuss, and critique the great ideas and arguments that have shaped our Western intellectual culture. Because our professors encourage active, rich discussion of  issues vitally important to society in general and to the university in particular, our community plays an indispensable role in Samford's fulfillment of its mission as a Christian university.
News

HCAS Welcomes New Faculty For The 2022-2023 School Year
On Wednesday, Dean Timothy Hall welcomed some new faces and acknowledged staff that have been promoted during his annual Welcome Back event.  

New Scholarship Shares Transformative Experience of Ancient World
Samford's new Flynt-Clapp Study Abroad Endowed Scholarship shares with new generations of students the transformative international experiences of alumnus J. Matthew Wilson.  

April 13 Event To Explore Literary, Philosophical Significance of King Lear
The event will feature student readings of the play and lectures by retiring professors Steven Epley and Dennis Sansom.