Program Summary
Samford's Journalism and Mass Communication (JMC) major offers tracks in print journalism, broadcast and electronic journalism, public relations and advertising. The department also houses a film production minor and a sports media minor, as well as coursework in church media, social media and photojournalism.
Every single day that I spent at Samford prepared me for the "real world." From technical skills like how to write a press release or deliver a presentation to general life skills, I'm grateful for my Samford degree every day. Allison Klaubert Lavender (2014), Associate, Markstein Strategic Communications Agency
We believe that the best way to learn journalism is to practice journalism, so our classes are designed to be hands-on and production-focused. Under the instruction of our highly experienced faculty, our students will learn skills across all areas of modern mass media, allowing them to best compete for the top journalism jobs in the country.
Objectives & Goals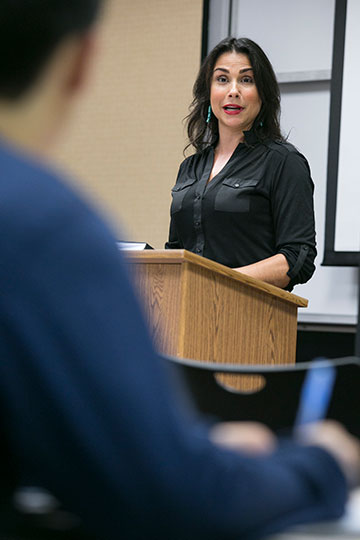 Above all, our graduates know how to tell the story. How do you find the story? Whom do you talk to? What questions do you ask? And how do you tell the people who need to know through a variety of channels? The ability to communicate clearly and efficiently is the most highly sought-after skill in today's economy and the core theme of all Samford JMC coursework.
JMC students will graduate with practical skills and experience in:
Writing for print and web
Video production
Public relations
Advertising
Social media
Photojournalism
Page design
and more
Is This Program for Me?
Students who thrive in Samford JMC are curious, motivated and creative. They are eager to look outside the way things are to find ways things could be improved. They understand how to collaborate with their classmates to maximize individual talents for collective benefit. Most of all, whether it's through a magazine article, documentary film, press release or tweet, they want to communicate.
What Makes Us Different?
Unlike larger schools where journalism majors may not get a chance to write for the campus newspaper or work on a news broadcast until well into their college career, Samford JMC aims to get our students plugged in as soon as possible in a variety of ways. Freshmen students could see their first byline in the paper or produce their first radio broadcast within weeks of stepping onto campus.
I really do believe that the well-rounded education and preparation I had as an effective communicator has served me well as a missionary…I use my training as a communicator so that Brazilian college students can investigate the person of Jesus Christ in their own language and context. Jon Elam (2001), Resource Director (Belo Horizonte Region), Campus Outreach
Because our students gain vital hands-on experience early, they are more competitive for internships and are able to complete multiple internship experiences before they graduates. The majority of our students complete two to three internships during their years at Samford, many finding full-time employment with those companies afterward.
Career Preparation
Market Ready
In Samford JMC, we don't just teach you to know journalism; we teach you to practice journalism. Our students are shooting newscasts, building magazines, writing press releases and creating advertising campaigns, all as a part of their classes. Additionally, we require you to complete at least one internship as a part of our curriculum (most of our students complete two or more). Between your experiences in classes and in internships, you will graduate with a resume full of marketable skills that will make you an invaluable hire for any employer.
In my role [at The Washington Center], I get to put my JMC skills to work with the ultimate goal of connecting students to a life-changing internship experience. Each day, I'm thankful to Samford JMC for giving me the skills, the connections and the chance to realize my full potential. Lauren Womack Johnson (2011), Manager of Marketing and Communications, The Washington Center
Career Opportunities
A unique combination of a liberal studies education and professional training in journalism and mass communication provides you with almost limitless career options. Our graduates regularly go into careers in magazines, television, video production, public relations, advertising, sports information, media research, media sales, law, church communication, broadcasting and book publishing.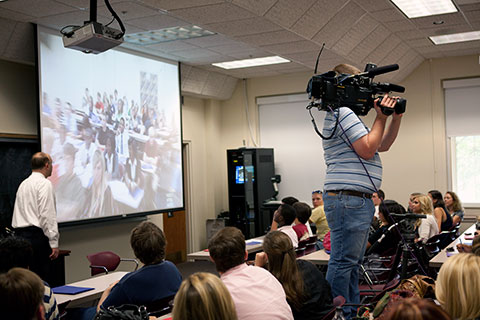 Internships
JMC students have recently interned with:
Southern Progress (part of Time, Inc.)
Intermark Group
SEC headquarters
Starnes Publishing
Office of the U.S. Trade Representative
BIG Communications
American Heart Association
Rick and Bubba Show
Markstein
NBC 13
CBS 42
Progressive Farmer magazine
Women's Missionary Union
and more
Fellowships
The Washington Post
Samford and The Washington Post established the annual Timothy Sumner Robinson Fellowship in 2006 in honor of Robinson, a late Samford alumnus and former Post reporter. One JMC student is chosen each summer to spend two weeks working at the Post. Robinson Fellows have worked in a variety of areas at the Post, including sports, arts & leisure and social media engagement.
Accolades & Alumni
Awards & Recognition
#1 journalism program in Alabama
A Top 30 "Best Value" program for journalism education in the United States
A Top 25 "Most Focused" program for journalism education in the United States
#54 journalism program in the country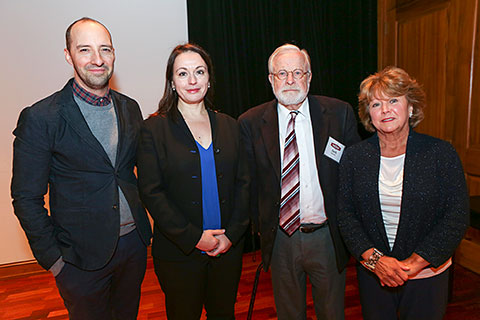 Alumni Careers
JMC alumni have established careers with:
The Washington Post
ESPN
Children's of Alabama
SEC
Luckie & Co.
CBS 42
Lantern Vision
Cooking Light
Jack Rogers USA
American Heart Association
And those are just a few of the hundreds of places where our graduates have found success.
Notable Alumni
Jon Acuff (1998), speaker and author (Stuff Christians Like, Quitter, Start, Do Over)
Tony Hale (1992), Emmy Award-winning actor (Arrested Development, Veep)
Carol Guthrie (1993), head of the Washington center at the Organization for Economic Cooperation and Development and former senior advisor to the U.S. Trade Representative
John Crist (2006), Christian standup comedian
Carol Nunnelley (1965), executive director of the Alabama Initiative for Independent Journalism, former managing editor of The Birmingham News
Kaitlin McCulley (2010), reporter for KTRK, ABC-13 in Houston, Texas
Ian Thompson (1993), editor of GolfSouth Magazine
Concentrations
Advertising
The advertising concentration consists of two courses, Advertising/Marketing Communication, and Advertising Practicum II. 
Broadcast and Electronic Journalism
Students in the broadcast and electronic journalism concentration take Advanced Mass Media-Electronic Practicum I, and complete the practical application  in Video Practicum II.
Print Journalism
The courses in the print journalism concentration begin with Advanced Mass Media-Print/Web Practicum, and continue with the Magazine/E-Zine Practicum II.
Public Relations
Public Relations Communication and Public Relations Practicum II are the courses within the public relations concentration.