Published on June 25, 2014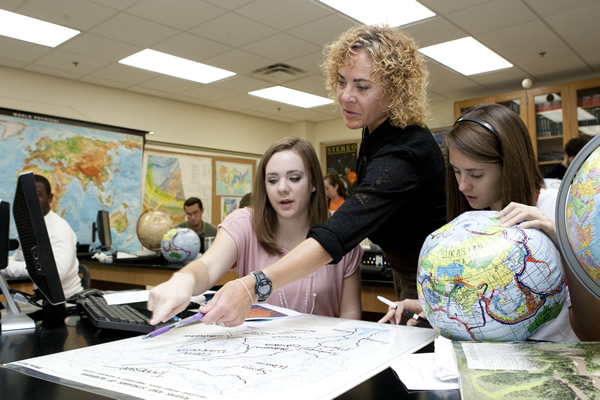 Samford University geography professor Jennifer Rahn is one of only four U.S. educators honored with the 2014 Higher Education Distinguished Teaching Award from the National Council for Geographic Education (NCGE). 
The award honors teaching skills, leadership, professional development accomplishments, involvement in student activities and development of innovative teaching materials and strategies.
Samford
Geography Department
chair Jennifer Speights-Binet said Rahn's willingness and ability to captivate her students is especially impressive. "Dr. Rahn is one of the most enthusiastic and innovative teachers I know," Speights-Binet said. "She excels at hands-on and lab-based instruction, and for physical geography, that style of teaching is vital."
"I love what I teach and love my subject matter – the Earth, including the oceans," said Rahn, who coordinates Samford's new interdisciplinary
environmental studies minor
and each January leads students in a
field course on the Dutch Caribbean island of Saba
. That longstanding coastal and marine focus extends to her current work on coral reef nurseries, a one-on-one project with an undergraduate student participating in the Howard College of Arts and Sciences ASPIRE research program.
"It is an exciting time to be a geoscientist," Rahn said. "There is always new research redefining our understanding of the planet. I also love seeing students grasp these concepts and appreciate the wonders of our natural world."