Published on July 1, 2020 by Sean Flynt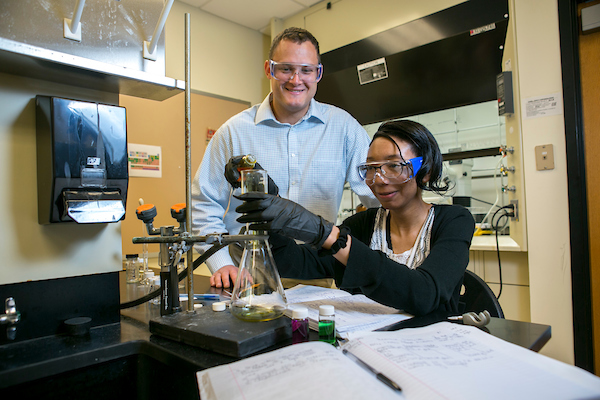 Faculty-led research with student collaborators is the distinctive focus of Samford's Department of Chemistry and Biochemistry. The immersive, one-on-one experience creates opportunities for professional networking and publication in peer-reviewed journals, and helps open the doors to graduate education and careers. Chemistry professor Dale Wilger continues that emphasis by earning a new grant that will give his students essential lab experience and a chance to contribute to a wide range of practical applications.
The $70,000 grant from the American Chemical Society's Petroleum Research Fund provides funding for three years of research, most of which will be performed by students under Wilger's guidance. He said the research aims to develop new Ni-catalyzed cross-coupling reactions to synthesize a class of molecule known as an indenone. Indenone structures are present in a wide variety of biologically active compounds, including known Alzheimer's treatments and developmental cancer treatments. Despite the importance of indenones, synthetic methods to create them are limited to a small subset of specific compounds. "My students' work should vastly expand upon the number of different indenones that can be synthesized and therefore examined for useful applications, including medicinal and pharmaceutical development," Wilger said.
Earlier this year, Wilger secured an $8,000 summer research grant from the journal Organic Synthesis to support his research with students. In addition to his teaching and research, he continues to work with students to develop conference presentations and articles for peer-reviewed journals.