Published on January 8, 2021 by Sean Flynt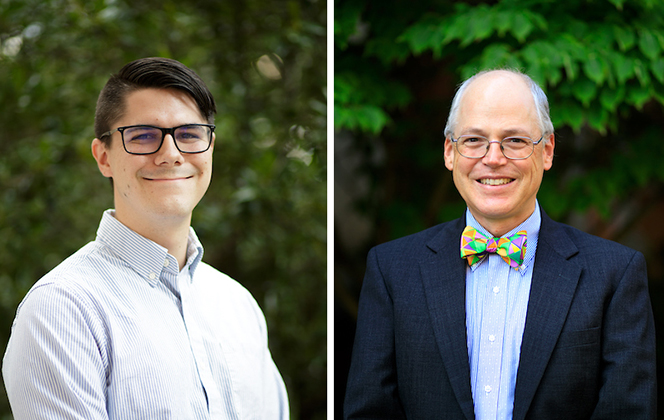 Bains, Cyr Earn Grants for Courses on Free Will, Religion, Race and Ethnicity
Two Howard College of Arts and Sciences professors have received course development grants from Samford University's William E. and Wylodine H. Hull Fund for Christian Scholarship.
Biblical and Religious Studies professor David Bains will use his grant for work next summer to complete a new course–Religion, Race, and Ethnicity in America (BREL 356)–to be offered in fall, 2021. Bains said the grant will help him enhance the already-approved course through closer attention to recent developments in the history of race and ethnicity in America and a more thorough consideration of Christian theological reflections on the subject.
Philosophy professor Taylor Cyr will use his grant to develop a course that addresses the perennial debate about the relationship between God and human free will. The course will be offered every other year starting in fall, 2022, alternating with the current Philosophy of Religion course and cross-listed as a Biblical and Religious Studies Course.
The William E. and Wylodine H. Hull Fund for Christian Scholarship seeks to strengthen the Christian character and institutional purpose of Samford University by supporting faculty who are interested in how the integration of faith and higher education enriches the life of the academy and the church, preparing both to respond more faithfully and justly to the pressing social, cultural, and moral challenges of the day.