Published on January 29, 2021 by Sean Flynt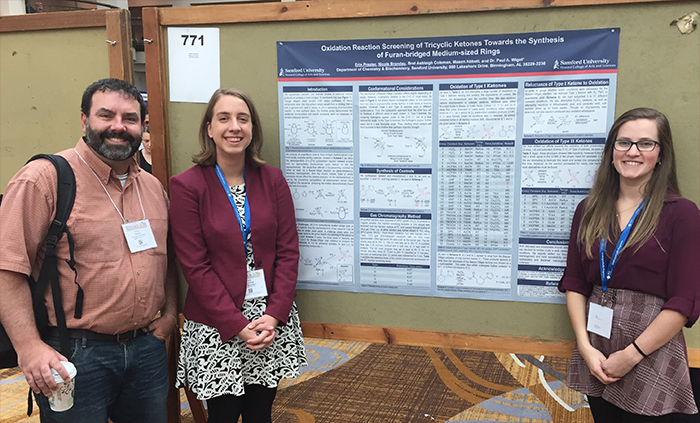 Samford University chemistry professor Paul Wiget and senior biochemistry student Nicole Brandau have published a digest paper–"Bicyclic cycloadduct fragmentations as a means of stereocontrol"– for the academic journal Tetrahedron Letters. The work was supported by a fund established in honor of John R. Sampey, Jr., chair of the Howard College Chemistry Department in the 1920s and 1930s.
Wiget was awarded the John R. Sampey, Jr. Research Professorship in 2019, and since then has used some of the position's $15,000 research fund to support summer projects with Brandau and Erin Prester '20. Those projects led to the students' poster presentation at the Southeastern Regional Meeting of the American Chemical Society, and to an opportunity for a Research Proposal Development Grant from Samford's Office of Research. Wiget needed a literature review to support his proposal for the latter, and re-enlisted Brandau for a remote 10 week project last summer. Wiget said Brandau completed the review in only four weeks, so professor and student decided to further develop the project as the article now in print.
"The Sampey Professorship is really an amazing gift to the department," Wiget said. "The poster, the grant proposal and this paper owe their existence to the support provided by this professorship."
Current chemistry professors Brian Gregory and Corey Johnson previously held the Sampey Professorship. Erin Prester, a University Fellows alumna whose work with Wiget also was supported by the Alabama Foundation Research Fellows grant, is now in medical school at the University of Tennessee Health Science Center. Nicole Brandau has been accepted into four graduate schools and is waiting to hear from more before she makes her choice for next fall.