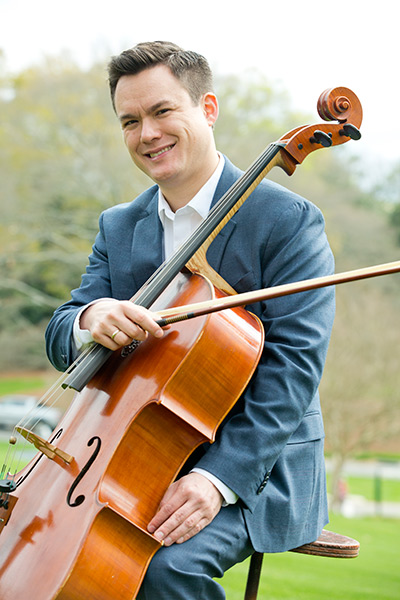 Samuel Nordlund
Lecturer, Cello, Chamber Music
School of the Arts
Division of Music, Strings
Office: Buchanan Hall 405
SAMUEL NORDLUND is an active cellist and teacher.  He is on the faculty of Samford University, where he teaches cello and plays with the faculty Samford Quartet.  Samuel is also a faculty member at the Lutheran Summer Music Festival, where he teaches cello, coaches chamber music and orchestra, and directs the early music Collegium.  Previously, he has served as Music Director of the Metropolitan Youth Orchestra of Central Alabama, and as Assistant Director of Performance Activities at the Music Institute of Chicago.  Samuel is currently pursuing the Doctorate of Musical Arts from the University of Alabama, where he is a member of the Capstone Quartet, a graduate fellowship ensemble.
After earning his Bachelor of Music Degree in Cello Performance, magna cum laude, from The University of Alabama, Samuel moved to Chicago where he earned his Master of Music degree at Northwestern University.  His primary instructors have been Carlton McCreery and Hans Jensen.  Additionally, Samuel has studied cello with Richard Aaron, Stephen Geber, Alan Stepansky, Jonathan Pegis, Richard Hirschl, and Patricia Pilon.  He has attended summer festivals including Music Academy of the West, the Kent/Blossom Festival, Encore School for Strings, Brevard Music Center, and the Boston University Tanglewood Institute.  In the summer of 2006, Samuel was the teaching assistant for Hans Jensen at the Meadowmount School of Music.
During his time in Chicago, Samuel began building an active performing and teaching career.  He has been a member of the Civic Orchestra of Chicago, along with the Illinois Philharmonic, Kalamazoo Symphony Orchestra, and Northwest Indiana Symphony Orchestra.  In addition, he has performed with the symphony orchestras of Fort Wayne (IN), Elmhurst (IL), Tupelo, Tuscaloosa and Huntsville.  He has also been a substitute player with the Chicago and Milwaukee symphony orchestras.  As a soloist, Samuel has performed with the Huntsville Symphony and twice with the Huxford Symphony, as two time winner of the University of Alabama's concerto and aria competition.
Samuel has also been an active chamber and recital musician.  He has given performances at Luther College, Gustavus Adolphus College, The Music Institute of Chicago, Sherwood Music Conservatory (Chicago), and the Chicago Cultural Center.  In addition, he has collaborated with ensembles such as Bach Week, the Chinese Fine Arts Society of Chicago, and the North Shore Chamber Arts Ensemble.  Besides performing with the Samford and Capstone String Quartets, Samuel performs with University of Alabama faculty members in the Druid City Piano Quartet.