Studying Organ at Samford University
The Division of Music in the School of the Arts offers multiple opportunities to pursue studies in organ. This includes degree options in Organ Performance, Music and Worship, Education, and Composition, as well as the Bachelor of Arts or the Bachelor of Science in Music. Students can also take organ lessons as part of a minor in music or as a secondary area to other concentrations.
Organ studies at Samford feature comprehensive study in organ literature and technique, choral conducting, and sacred music. Instruction occurs through individual private training, seminars, workshops, observations, performance, internships, guest artists and master classes on and off campus. Organ students have access to a variety of instruments and performance locations on campus and often work with local churches in their music programs. Reid Chapel, Hodges Chapel, and the Wright Center for Performing Arts all have performance organs along with studio organs in Bolding Studio and Buchanan Hall, home to the Division of Music. Graduates are prepared for careers as soloists, church musicians and advanced degree programs.
What Makes Us Different?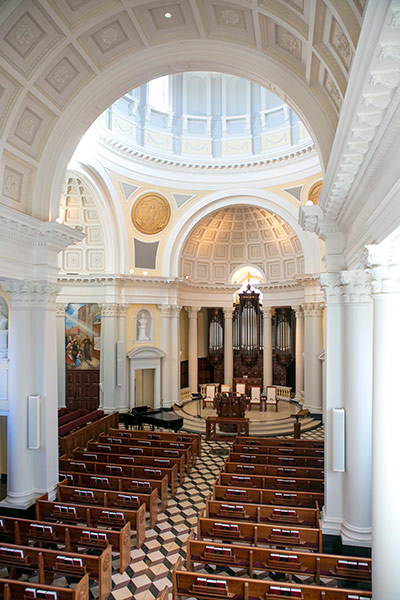 In addition to a strong emphasis on performance, Samford affords a rich milieu of worship, ensemble, and ministry experience in practice and curriculum.
Samford's Christian environment encourages individuals to pursue a career in organ performance by providing the training for music ministry, academic roles and concert performance. Study under our highly acclaimed University Organist, Dr. Frederick T. Teardo, exposes students to vast experience across these fields.
Our students find their greater purpose while honing their talents. Ultimately, students acquire a command for the instrument, solid techniques, musical language and skills needed for church leadership.
Samford offers a wide variety of performance organs as well as 3 practice instruments on campus. Reid Chapel is home to Samford's main performance organ, a 3-manual Aeolian-Skinner organ built in 1962 that was recently enlarged to 55 ranks by Quimby Pipe Organs. The organ in Hodges Chapel was built by Orgues Létourneau (Op. 45), and consists of 2 manuals and 29 ranks. Samford's 2,400 seat performance hall, The Wright Center, houses a 2-manual Schlicker Organ (1973) that is used for commencements, convocations, campus worship and other significant university events. Bolding Studio and the Organ Studio in Buchanan Hall both have studio organs built by Von Beckerath. These instruments are well-maintained and updated to provide the highest quality experience for our students.
Career Preparation
Internships
Students work in the local church community through internships, apprenticeships and employment while at Samford and after graduation.
As an organ scholar at the Advent, I am an 'organist in training' under two full-time organists. This has meant ample opportunity to observe professional church musicians in action, and to play service music, hymns, anthems, improvisations, voluntaries, Psalms, and everything else...
..."I even oversaw an entire Sunday morning of services while the two organists were away. I played the entirety of the three morning services (all different), rehearsed and conducted the choir on two anthems, and accompanied the psalm. It was an amazing experience, and certainly a major time of growth for me as an organist, conductor, and leader. Actually, this internship has sparked a love of sacred music that I did not know I had, and with Dr. Teardo's guidance, I've decided to pursue a Master of Sacred Music in Organ.
Studying with Dr. Teardo has been life-changing. Not only have I grown leaps and bounds as an organist, I have also developed the totality of my musical skill under his guidance in ways I cannot explain. He is a brilliant musician with a deeply pastoral heart, and he has become a great mentor and friend. His training is so extensive, and no mistake gets past him. When it comes to sacred music, his name is widely acknowledged, and his resume is extensive. It's a true pleasure to study under him, observe him, and count him among my friends.
Samford has several very fine organs. Reid Chapel is a gem among the state's organs. It is actually one of my all-time favorite instruments of the dozens of organs around the country I have spent time with, and it's a pleasure to play. Hodges Chapel is also a very high-quality instrument. With access to these two instruments and their respective rooms, I am able to practice the most minute of details and musical subtleties here on campus."
Nathan Peace, a senior who is currently an organ scholar with the Cathedral Church of the Advent.
Faculty & Alumni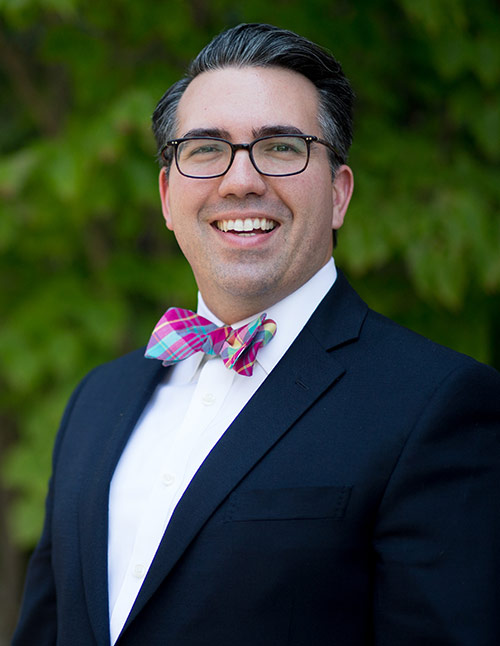 Frederick T. Teardo is Director of Music and Organist at the Cathedral Church of the Advent in Birmingham, Alabama, as well as Adjunct Instructor of Organ and University Organist at Samford University. Prior to his appointment at the Advent in 2012, he held a six-year tenure at Saint Thomas Church Fifth Avenue in New York City, where he served first as Assistant Organist and then Associate Organist to the late John Scott.
Additional faculty organists include Eric Mathis and Beth McGinnis. Choral faculty conductors are Sherrie Lawhon and Philip Copeland. Emily Andrews is part of our church music faculty.
What are our alumni doing?
Sharon Mays, BM (2015), studied organ and completed graduate studies in choral conducting and literature at Cambridge University.
James Smith, MM (2016), is a Minister of Music with the Historic Third Baptist Church of San Francisco. He is an active organist and choral director.
Michael Smith, BM (2000) is the Minister of Music at St. Thomas' Church, Whitemarsh, located in Ft. Washington, PA. After Samford, he went on to earn graduate degrees in organ and conducting at Yale University.