Published on October 16, 2019 by Ashley Smith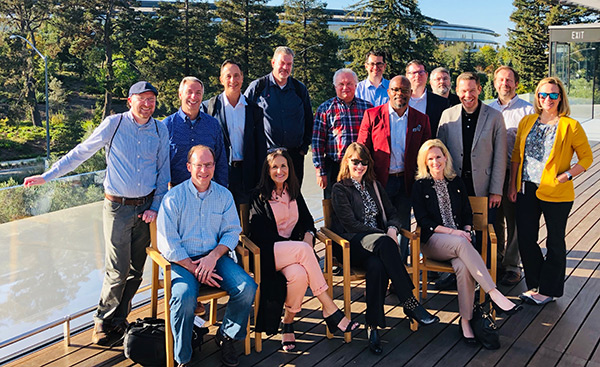 Over the past three years, Samford's faculty and staff have been sharing the Catalyst concept nationally and internationally. Catalyst is the new core curriculum at the heart of the School of the Arts education, preparing students with more professional skills, entrepreneurial insights and awareness of arts in society. Catalyst evolved as a response to the shifting landscape in the professional world of the arts. Faculty identified areas where long-standing curricula was not meeting the needs of its students and developed six core classes that foster competencies for the 21st-century marketplace.
School of the Arts leadership presented at numerous conferences including The International Council of Fine Arts Deans (ICFAD), National Association of Singers (NATS), Foundations in Art: Theory and Education (FATE), SECAC, National Association of Schools of Music (NASM) and twice at the International Conference on Arts in Society. Dean Joe Hopkins and professor Joe Cory, director of Catalyst, presented at the Arts in Society Conference in Lisbon, Portugal. Cory noted, "Several presentations cited Catalyst and the Samford approach following our session. Colleagues were very interested in the execution of this idea."
According to Hopkins, "Since 2014, we have seen Catalyst evolve, and we expect it to deepen and grow as we experience it for the first time. One of the most exciting things is the creative energy and input we have received from students, faculty and our entire support community." Donors have stepped up to underwrite student experiences. Businesses are collaborating to create opportunities, and both faculty and students are contributing beyond initial expectations.
The Catalyst approach is highlighted in an upcoming book by ICFAD. Leonardo's Children: Stories on Creativity by Fine Arts Leaders that will Blow your Mind includes a chapter, "Launching a new way to teach the arts: utilizing the 'Pixar Approach' to create curricular change at Samford University." Authored by Hopkins, Cory and Ashley Smith, the chapter focuses on Catalyst's inception and collaborative nature.
Now in its third year, Catalyst is preparing for its first senior cohort to undertake the Catalyst capstone, an immersive opportunity that combines a pregraduate thesis, an integrated externship and a vocational launch pad. Recent pilot capstone projects have shown the benefits to students of this signature piece. Interior architecture students have designed buildings in Ecuador, Dominican Republic and India. Theatre students have traveled to Indonesia and Romania as teaching artists, and music students have partnered with a local community to highlight its musical heritage. Cory explains, "No classroom experience, text or lecture could have prepared our students as did these culturally and creatively expansive projects."
Additionally, Samford's general art education requirement was revamped to mirror the Catalyst approach. Arts in Society is a team-taught course that demonstrates societal art influences, both in the present and the past with experiential learning components.
Catalyst has also prompted a new iPad learning community with the faculty, staff and students. Arts leadership has worked closely with Apple. "Being on one platform makes the classroom more mobile, reduces the investment in text books and ramps up the collaboration and creativity for all of us," says Cory.