Published on December 30, 2018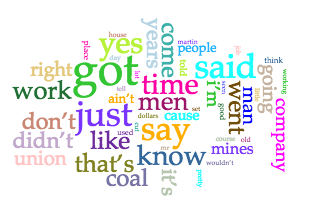 ". . . we had an athletic program here. Our baseball team was as good as any. The Black Barons were known then and we played them twice and they didn't beat us. We did, we had a third game scheduled, but they didn't want to be bothered with the miners (laughs) see."
The following is an excerpt of a longer interview with Mr. Kelley and Mr. Simmons. The full transcript for this interview can be accessed in Samford Special Collection.
Chapters
Childhood and Early Life
Samuel Kelley recalls stories from his early life.
Race Relations in Docena
Samuel Kelley describes segregation in coal mining towns, including Docena.
TCI Services and the Depression
Samuel Kelley explains his son's skull fracture injury and details TCI's methods of support during the Depression.
Forming the Union
Samuel Kelley describes the difficulties in forming the union and the hardships his father faced as a union man.
Transcript
Audio Information

| Attribute | Value |
| --- | --- |
| Interviewer | Belinda Mardis |
| Interviewee | James Simmons |
| Repository | Samford University Oral History Collection |
| Accession | SUHist/TCI/006 |