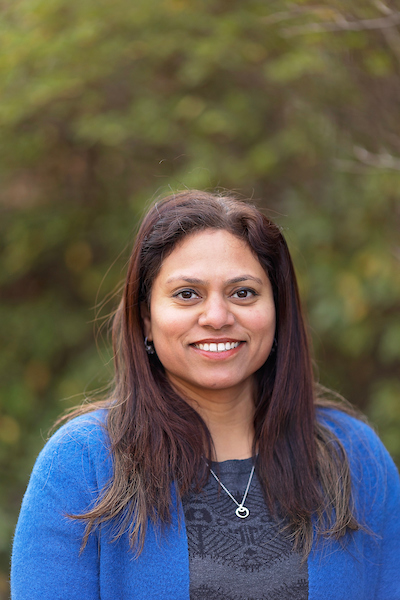 Associate Professor
McWhorter School of Pharmacy
Department of Pharmaceutical, Social and Administrative Sciences
2229 CHS Building 2
Bernadette D'Souza moved from Mumbai, India to the United States in 2007. She completed her Ph.D. in Pharmaceutical Sciences from Mercer University in Atlanta. Her current research focuses on formulation development and strategies to optimize cancer immunotherapy using microparticles. In the classroom, she enjoys teaching pharmacy calculations and new developments in drug products and biotechnology enhancements. A wise teacher once said, "The secret of change is to focus all of your energy, not on fighting the old, but on building the new". She believes the new role of pharmacists can help revolutinize the patient care process in healthcare.
Degrees and Certifications
Ph. D. Pharmaceutical Sciences, Mercer University
B. S. Pharmaceutical Sciences, Mumbai
Expertise
Formulations, drug delivery, dosage forms
Awards and Honors
Amgen Research Award, National Biotechnology Conference 
Graduate Alumni Award, Mercer University
Publications
Dsouza B. Can we use Adjuvants to Impact Immunotherapy for Cancer? AAPS online, Biotec Section, June 2016
D'Souza B., Shastri P.N., Hammons G., Kolluru P.L., Mulla N., Rajam G. Book Chapter 5: Microparticulate Formulation for a Pneumococcal Capsular Polysaccharide Antigen inNanoparticulate Vaccine Delivery systems. 2015 Pan Stanford Publishing
D'Souza B., Bumgarner G., D'Sa S., Bhowmik T., Selvaraj P., D'Souza M.J.Book Chapter  8: Oral Microparticulate Vaccine for Melanoma inNanoparticulate Vaccine Delivery systems. 2015 Pan Stanford Publishing
D'Souza B., Bhowmik T, Uddin MN, Oettinger C, D'Souza M.J. Development of β-cyclodextrin-based sustained release microparticles for oral insulin delivery; Drug Dev Ind Pharm. 2015;41(8):1288-93.
Uddin MN., Bhowmik T., D'Souza B., D'Souza M.J. Enhanced Bioavailability of Orally Administered Antisense Oligonucleotide to Nuclear Factor kappa B mRNA after Microencapsulation with Albumin. J Drug Target. 2013 May;21(5):450-7.
Bhowmik T, D'Souza B, Uddin MN, D'Souza M.J. Oral Delivery of Microparticles containing Plasmid DNA encoding Hepatitis B Surface Antigen. J Drug Target. 2012 May;20(4):364-71.
Presentations
Optimizing an Alginate-based Microparticle Formulation for Cancer Immunotherapy. Kim SH., Theresa El-Murr T., D'Souza B. Physiology research day, Birmingham Physiology Association (BPN), April 14th 2017
Reproducibility of Cytokine Release from Dendritic Cells in Response to Antigen-loaded    Microparticles. B. D'Souza, C. Sedlak and G.W. Bumgarner. American Association of Pharmaceutical Scientists (AAPS), Denver, November 13-17, 2016
Involvement 
American Association of Pharmaceutical Scientists (AAPS)
Birmingham Physiology Network, Faculty Advisor
American Association of Colleges of Pharmacy (AACP)