New Episodes Each Month
In partnership with Samford University's McWhorter School of Pharmacy, Healthy Dose® is a monthly podcast that offers expert advice for healthy living. Hosted by Anthony Bolus, Pharm.D., each episode focuses on a topic that affects our health and wellbeing, offering expert opinions from pharmacists and other health care professionals.
Join us this fall as Healthy Dose explores important topics. In its first two episodes, Healthy Dose will discuss the COVID-19 pandemic, including who it affects, how it spreads, and the symptoms, complications and preventative ways to combat it.
New episodes are available on the third Tuesday of every month and can be found wherever you stream podcasts, including Apple Podcasts, Google Podcasts and Spotify.
Fighting COVID-19 and Other Viruses from Over-the-Counter
February 24, 2021
In this month's episode, host Anthony Bolus talks to Maryam Iranikhah, Pharm.D., BCGP, FASCP, a professor at Samford University's McWhorter School of Pharmacy. Together, they discuss everything you need to know about vitamins essential to boosting immune health in the fight against COVID-19 and other viruses, including vitamin D, Vitamin C and Zinc.
COVID-19 Vaccinations: Myths vs Facts
January 20, 2021
In this month's episode, we bring back Michael Hogue, an alumnus of Samford's McWhorter School of Pharmacy and dean of Loma Linda University's School of Pharmacy in Loma Linda, California. He currently serves as president of the American Pharmacists Association, and he brings his expertise as a member of the CDC's COVID-19 vaccine work group to help us understand these vaccines in more depth: What is myth vs. what is fact related to them? What adverse reactions people can expect between dose 1 and 2, and why it is important to lift the sleeve and get the shot?
To Flavor or Not to Flavor: Getting Kids to Take Their Medications
December 16, 2020
When caring for children, there are unique challenges, including dosage form, flavoring, patient cooperation and education. In this month's episode of Healthy Dose, host Anthony Bolus talks to Sam Blakemore, Pharm.D, M.B.A., the pharmacist manager at PedsRx Pharmacy Solutions, which is an independent pharmacy located within Children's of Alabama. He shares some tried and true tips and tricks related to children's medications.
Diabetes, DSMES and DPP: What It Can Mean to Me
November 19, 2020
In this episode of Healthy Dose, host Anthony Bolus talks to Jan Kavookjian, Ph.D., M.B.A., a behavior scientist teaching at Auburn University's Harrison School of Pharmacy and the incoming President-Elect of the Association of Diabetes Care and Education Specialists (ADCES). November is National Diabetes Awareness Month, and millions of Americans are diagnosed with diabetes and pre-diabetes each year. Left undiagnosed or untreated, it can increase one's risk of heart attack, kidney disease, blindness and nerve damage to the feet—not to mention the large health cost burden to you and the overall health care system. One important and overlooked aspect of managing diabetes is the benefit of healthy lifestyle education programs. In their conversation, Bolus and Kavookjian, who also teaches patients through East Alabama Medical Center's National Diabetes Prevention Program, discuss what lifestyle change programs are available in the fight against diabetes.
DIR Fees: The Hidden Pharmacy Side Effects Of Your Medications
October 20, 2020
October is American Pharmacists Month. In this episode, we shine a light on an issue affecting many pharmacists called DIR Fees. These penalties have exponentially increased over the years, adding economic stress to community pharmacists across the country. Not only is this threat very real for pharmacy closings, but your overall safety as a patient is at risk as well.
Host Anthony Bolus talks to Patrick Devereux, Pharm.D., RPh, pharmacy manager and president of Family Medical Services, INC. which is comprised of four independent pharmacies in central Alabama, and goes into further details on DIR fees, how they are calculated and why they are problematic today.
Meet the Host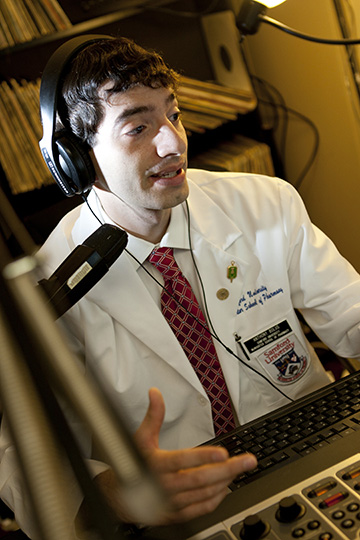 Anthony J. Bolus, Pharm.D. has worked in community pharmacy for more than 10 years, starting as a pharmacy technician in 2007. Bolus graduated from Samford University's McWhorter School of Pharmacy with a Doctor of Pharmacy in 2013. Upon graduation, he became the pharmacy manager at a chain pharmacy in Calera, Alabama, returning to school in 2014 to complete a year-long postgraduate year one (PGY1) community pharmacy residency with Family Medical Services (FMS) Inc. and Samford's McWhorter School of Pharmacy.
After completing the residency, Bolus was hired to be the full-time clinical coordinator of FMS, Inc., a position in which he has served for more than five years. Through this position, he helps oversee, train and create services beyond dispensing medication at all four of the independent store locations. Services include (but are not limited to) diabetes education, wellness screenings, immunization clinics, weight management training, and medication therapy management programs. Bolus also returns to Samford's campus as an adjunct professor, helping when needed with different pharmacy practice labs and simulations. He currently serves as a preceptor for both Samford and Auburn University pharmacy students during their respective rotations.
In addition, Bolus is the founder and a producer of Healthy Dose®, a pharmacy radio show that began in 2011 and ran for six years on Birmingham's Smooth Jazz Radio Station, WVSU-FM 91.1. In 2020, Bolus brings Healthy Dose® back to Birmingham through Samford's McWhorter School of Pharmacy podcasts.
Outside of his work in pharmacy, Bolus is involved at St. Elias Maronite Catholic Church where he serves as the chairman of the St. Elias Maronite Lebanese Food and Cultural Festival that host more than 8,500 people each year. Bolus is married to Victoria and currently resides in Birmingham, Alabama.
Subscribe to our Emails
When you subscribe to the Healthy Dose® email list, we will send you a notification when new episodes are available—along with additional news and information relating to the episode's topic.
Disclaimer: Healthy Dose® is not intended to provide specific medical advice. Individuals should confer with their personal health care providers prior to making any changes to their treatment plans. The opinions and views of those appearing on Healthy Dose® are those of the individuals and not of Samford University or McWhorter School of Pharmacy.