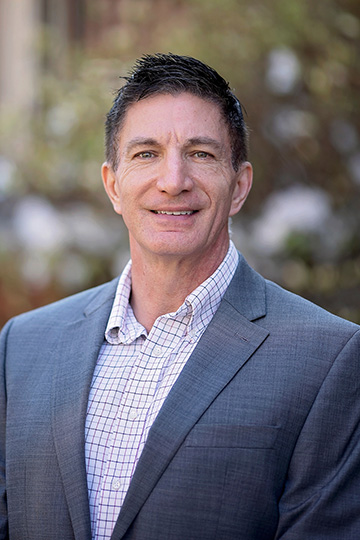 Professor and Vice Chair, Department of Pharmaceutical, Social and Administrative Sciences and Director, Pharmaceutical Sciences Research Institute
McWhorter School of Pharmacy
Department of Pharmaceutical, Social and Administrative Sciences
Office: CHS Building 2 2211
Greg Gorman joined McWhorter School of Pharmacy faculty in 2010 after working in the drug discovery/development industry for over 12 years.  Research in his laboratory is focused in both non-clinical and clinical areas of interest.  The non-clinical research has two primary goals: (1) discovery and development of adjuvants for improved bioactivation of chemotherapeutic prodrugs via enzymatic biomodulation and (2) development of a new class of herbal based aromatase inhibitors for estrogen receptor positive (ER+) breast cancer. Clinical research projects address the impact of continuous renal replacement therapy (CRRT) on the adequacy of IV dosed beta-lactam antibiotics in renally impaired pediatric patients. A second project evaluates physical compatibility of multi-port IV dosing of commonly used medications in different pediatric intensive care units.
Degrees and Certifications
Ph.D., bioanalytical chemistry, University of Georgia
B.S., chemistry, Armstrong State College
Awards and Honors
Scholar Award in published Scholarship, 2014
Superior Scholar Award in published Scholarship, 2015
Involvment
American Association of Pharmaceutical Scientist
Expertise
Drug metabolism
Chemotherapeutic pro-drug activation
Drug-drug and drug-herbal interactions
Publications
Gorman, G.,  Miller, R. , Joiner, L. , Quattlebaum, C. , Benner, K. (2017, September) Multiport Y-Site Compatabil-ity of a Parenteral Nutrition Solution with Routinely used Pediatric CVICU Mediation.  Adv, Crit. Care Med. (1) 2017, epub: http://www.scientificoajournals.org/pdf/accm.1001.pdf
Gorman, G., Sokom, S., Coward, L., Arnold, J. (2017) Development and Application of a High Per-formance Liquid Chromatographic Stability Indicating Assay for Beyond Use Date De-termination of Compounded Topical Gels Containing Multiple Active Drugs International Journal of Pharmaceutical Compounding 21(2), 164-170.
Henry, T.R., Penn, L.D. Conerty,  J.R., Wright, F.E., Gorman, G.S. and Pack B.W.(November 2016) Best Practices in Stability Indicating Method Development and Validation for Non-Clinical Dose  Formulations. The AAPS Journal, 1418-1423.
Hoj, T.H.,  Robinson, R.J., Burton, J.C., Densley-Ure, R.A., Olson, T.V., Williams, L.K.,  Coward, L., Gorman, G., and Hansen, M.D.H. (August 2016) Small molecules revealed in a screen targeting epithelial scattering are inhibitors of microtubule polymerization.  Journal of Biomolecular Screening 21(7), 671-679.
Malik, A., Gorman, G.S., Coward, L., Arnold, J.J. (2016) Stability of an Extemporaneously Com-pounded Oral Suspension of Bosentan.  Hosp. Pharm. 51(5), 389-395.
Cutshall, B.T. , Gorman, G.S., Freeman, M.K., Kyle, J.A. (2016) Enzymatic Stability of Alteplase Solu-tion for Injection: Effect of Various Methods of Thawing Frozen Solutions.  Hosp Pharm 51(3), 246-251.
Bryson, E., Hartman, R., Arnold, J., Gorman,  G., Sweitzer, S., Asbill, S. (2015) Skin Permeation and Antinociception of Compounded Topical Cyclobenzaprine Hydrochloride Formulations.  International Journal of Pharmaceutical Compounding, 19(2), 161-166.
Taylor, M.H., Sandler, A., Urba, W.J., Omuro, A.P, Gorman, G.S., Karmali, R.A., (2015) Effect of Carboxyamidotriazole Orotate, a Modulator of Calcium-Dependent Signaling Path-ways, on Advanced Solid Tumors.  Journal of Cancer Therapy,  6, 322-333.
Grappe, F., Nance, G., Coward, L., Gorman,  G.S., (2014) In Vitro Inhibitory effects of Herbal Sup-plements on Tamoxifen and Irinotecan Metabolism.  Drug Metabolism and Drug Interactions, 29(4), 269-279.
Karmali, R.A., Maxuitenko, Y., Gorman, G.S., (2014) Comparative Response of SC CAKI-1 Renal Tumor to Treatment with Doxorubicin HCl and Doxorubicin Orotate.  Journal of Cancer Therapy, 5, 427-441.
Gorman, G.S., Coward, L.C., Darby, A. and Rasberry, B. (2013) Effects of herbal supplements on the bioactivation of chemotherapeutic agents.  J. Pharmacy and Pharmacology, 65(7), 1014-1025.
Presentations
Palmer AL, Gorman GS, Cates ME. "Relationship of lithium in drinking water to suicide rates across fifteen Alabama counties" presented at College of Psychiatric and Neurologic Pharmacists Annual Meeting; April 2017; Phoenix, AZ
Greenhill K., Coward L., Gorman G. "In vitro Investigations of Commercially Available Over-the-Counter Herbal Supplements on Enzymatic Activation of the Chemotherapeutic Prodrug Tamoxifen" presented  at American Association of Pharmaceutical Scientists Denver, CO. Nov 2016
Walker E., Coward L., Gorman G. "In Vitro Inhibitory Effects of Commercially Available Herbal Supplements on the Cyclooxygenase II Pathway" presented  at American Association of Pharmaceutical Scientists Denver, CO. Nov 2016
Roberts, R., Coward, L., Gorman G. "In Vitro Investigations of Increased Biomodulated Activation of Irinotecan to Its Active Metabolite (SN-38) Using Herbal Extracts"  presented  at American Association of Pharmaceutical Scientists Denver, CO. Nov 2016.
Diaz F, Benner KW, Sewell K, Daniel L, Kalra Y, Sims PJ, Gorman GS "Adequacy of beta-lactam antibiotic dosing in critically ill children on continuous renal replacement therapy: A pilot study" presented at 8th World Congress of the World Federation of Pediatric Intensive & Critical Care Societies (PICC 2016) to be held in Toronto, Ontario, Canada June 4-8, 2016.
Omuro A, Beal K, McNeill K, Thomas A, , Lin X, Kaley T, DeAngelis L, Mellinghoff I, Diamond E, Chan T, Young R, Arevalo J, Yamada J, Gorman G, Lamson M, Bavisotto L,  Karmali R. "Phase IB Trial of Carboxyamidotriazole orotate (CTO) and Radiotherapy with Concurrent and Adjuvant Temozolomide in Newly Diagnosed Glioblastoma" presented at Amerian Society of Clinical Oncology Chicago IL, June 2016.
Foyt, J. Gorman, G. "In vitro Effects of Herbal Supplements and Components on Aromatase Activity" presented  at America Society of Health System Pharamacist New Orleans LA, Dec 2015.
Nance, G., Grappe, F., Coward, C. Gorman, G. "In Vitro Inhibitory Effects of Herbal Supplements on Tamoxifen and Irinotecan Metabolism" presented  at American Association of Pharmaceutical Scientists San Diego CA. Nov 2014
Research
Drug metabolism
Drug-drug
Drug-herbal interactions
Aromatase inhitors
Chemotherapeutic pro-drug activation