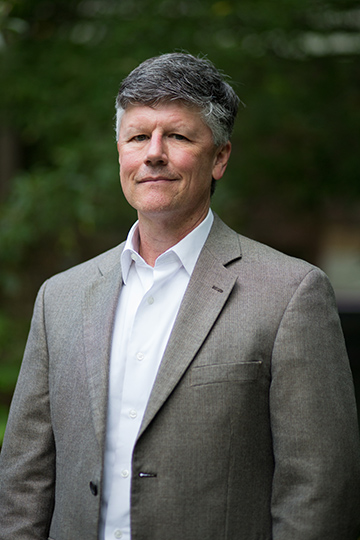 Professor and Chair
McWhorter School of Pharmacy
Department of Pharmaceutical, Social and Administrative Sciences
2216 CHS Building 2
Howard Hendrickson came to Samford University from the University of Arkansas for Medical Sciences College of Pharmacy, where he was an associate professor and program director for the Pharmaceutical Sciences graduate program. The foundation of his research is grounded in his background in bioanalytical chemistry, drug metabolism and pharmacokinetics. He would like to grow our understanding of how interactions between nutrition, genetics and drug therapy affect chronic conditions, such as diabetes and heart disease. He strongly believes that building interdisciplinary collaborations is the most effective way to improve human health by answering these and other challenging questions. McWhorter School of Pharmacy's focus on providing a unique educational experience for future pharmacists and developing collaborative projects with major research institutions in the area provide a vibrant environment for this approach. 
He has been married to Tina for 28 years and they have two children, Caitlyn and Alex. Tina is a chemist and has taught chemistry at the high school and college level for 18 years.
Degrees
Post-doctoral fellowship, pharmacology, University of Arkansas for Medical Sciences
PhD, analytical chemistry, University of Arkansas
MS bioanalytical chemistry, University of Kansas
BS, chemistry, University of Arkansas
Expertise
Bioanalytical chemistry
Pharmacokinetics
Drug metabolism
Involvement
American Chemical Society
American Association of Pharmaceutical Scientists
American Association of Colleges of Pharmacy
Kappa Psi Pharmaceutical Fraternity
Recent Publications
Liu X, Poddar S, Song L, et al. Synthesis and Liver Microsomal Metabolic Stability Studies of a Fluorine‐Substituted δ‐Tocotrienol Derivative. ChemMedChem. 2020;15(6):506-516.
Liu X, Gao Z, Fu Q, et al. Deuteration of the farnesyl terminal methyl groups of δ-tocotrienol and its effects on the metabolic stability and ability of inducing G-CSF production. Bioorganic & Medicinal Chemistry. 2020;28(11):115498.
Hambuchen MD, Berquist MD, Simecka CM, et al. Effect of Bile Duct Ligation-induced Liver Dysfunction on Methamphetamine Pharmacokinetics and Locomotor Activity in Rats. J Pharm Pharm Sci. 2019;22(1):301-312.
Liu X, Wang Y, Zhang X, Gao Z, Zhang S, Shi P, Zhang X, Song L, Hendrickson H, Zhou D, Zheng G.;  Senolytic activity of piperlongumine analogues: Synthesis and biological evaluation; Bioorg Med Chem. (2018) pii: S0968-0896(18)30794-6.
Hambuchen MD, Hendrickson HP, Gunnell MG, McClenahan SJ, Ewing LE, Gibson DM, Berquist MD, Owens SM. The pharmacokinetics of racemic MDPV and its (R) and (S) enantiomers in female and male rats. Drug Alcohol Depend. 2017; 179:347-354.
Research Areas
Clinically relevant effects of natural products on drug metabolism and pharmacokinetics