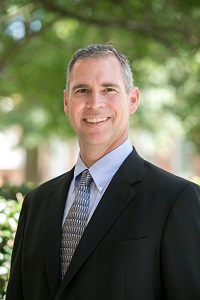 Professor
McWhorter School of Pharmacy
Department of Pharmacy Practice
1435 CHS Building 1
Michael C. Thomas came to Samford University from Western New England University College of Pharmacy in Springfield, Massachusetts where he served as vice chair of the Department of Pharmacy Practice. After residency training, Thomas started his career at Munson Medical Center (MMC) in northern Michigan where he served as a clinical pharmacist in the following areas: cardiology, cardio-thoracic surgery, intensive care and emergency medicine.  Additionally, he was the clinical lead on a multi-year, grant-supported, patient safety initiative for the five-hospital health system. 
While at MMC, Thomas helped establish clinical pharmacy services in the emergency department.  He then joined the faculty at South University and helped establish and subsequently maintained emergency department clinical pharmacy services at the Saint Joseph / Candler Health-System in Savannah, Georgia.
Throughout his career, Thomas has worked as clinician, preceptor, and academician, but feels his true calling is within the academy. "It is an honor to educate future colleagues; students in the classroom and experiential sites today are the clinicians of tomorrow," he said.
His teaching and research interests include simulation and topics related to emergency pharmacy practice. Thomas has been very active in national pharmacy organizations and is passionate about the education of pharmacy professionals. He has authored more than 25 articles and book chapters. He has presented numerous abstracts and programs at local, state, and national conferences.
"Coming to Samford opens a new chapter as I have the privilege of leading very talented and dedicated professionals during an exciting time in the profession," said Thomas. He added that he feels blessed to be part of the McWhorter School of Pharmacy family.
Thomas enjoys woodworking, traveling and enjoying time with family. He has been married to Jenell for more than 20 years and has two teenage daughters, Tiffany and Faith. 
Degrees and Certifications
Pharm.D., University of Arizona
B.S., education (mathematics), University of Arizona
Pharmacy Practice Residency, Arizona Health Sciences Center
Board Certified Pharmacotherapy Specialist
Expertise
Awards and Honors
Fellow of the American College of Clinical Pharmacy
Mortar and Pestle Award, 2012
Mortar and Pestle Award, 2011
Recent Publications
Acquisto NM, Slocum GW, Bilhimer MH, Awad NI, Justice SB, Kelly GF, Makhoul T, Patanwala AE, Peksa GD, Porter B, Truoccolo DMS, Treu CN, Weant KA, Thomas MC. Key articles and guidelines for the emergency medicine clinical pharmacist: 2011–2018 update. Am J Health-Syst Pharm 2020;77:1284-1335. DOI 10.1093/ajhp/zxaa178.
Nemec EC, Thomas MC, Gile KJ, Tong J, Mattison MJ. Examining the relationship between biometric indicators and pharmacy students' academic performance. Am J Pharm Educ 2020;84:Article 7683.
Hall PD, Fish H, McBane S, Mercer J, Moreau C, Owen J, Policastri AA, Rattinger GB, Srivastava SB, Thomas MC, Bradley-Baker LR. The report of the 2018-2019 Professional Affairs standing committee: The role of educators in pharmacy practice transformation. Am J Pharm Educ 2019; 83 (10) Article 7596.
Thomas MC, Hughes PJ. Simulation as a central feature of an elective course.  Does simulated bedside care impact learning? Pharmacy 2018; 6:40 DOI:10.3390/pharmacy6020040
Deas C, Thomason AR, Riggs RM, Thomas MC, Kendrach MG. Use of a video module to improve faculty understanding of the Pharmacists' Patient Care Process. Inov Pharm 2018;9:Article 9. DOI:https://doi.org/10.24926/iip.v9i2.969.
Mo Y, Thomas MC, Laskey CS, Scherbakova N, Bankert ML, Halloran RH. Current practice patterns in the management of alcohol withdrawal syndrome. Pharmacy and Therapeutics 2018;43:158-62.
Zimmermann AE, Thomas MC. Essential training, resources, and skills of 1st year and junior pharmacy practice faculty needed in the development of an individual research program. J Pharm Prac 2018;31:617-22. DOI:10.1177/0897190017731244.
Mo Y, Thomas MC, Miano TA, Stemp LI, Bonacum JT, Hutchins K. Effect of modafinil on cognitive function in intensive care unit patients: A retrospective cohort study. J Clin Pharm 2018;58:152-7. DOI:10.1002/jcph.1002
Mo Y, Thomas MC, Antigua AD, Ebied AM, Karras GE. Continuous lidocaine infusion as adjunctive analgesia in intensive care unit patients. J Clin Pharm 2017;57:830-6. DOI:10.1002/jcph.874
Mody V, Shah S, Patel J, Thomas MC*.  Compatibility of norepinephrine bitartrate with levofloxacin and moxifloxacin during simulated Y-site administration. Int J Pharm Compd 2016; 20:236-8.
Mo Y, Zimmermann AE, Thomas MC.  Practice patterns and opinions on current clinical practice guidelines regarding the management of delirium in the intensive care unit.  J Pharm Prac 2017;30:162-71.
Mo Y, Thomas MC, Karras GE. Barbiturates for the treatment of alcohol withdrawal syndrome: a systematic review of clinical trials. J Crit Care 2016; 32:101-7. 
Thomas MC, Acquisto NM, Shirk MB, Patanwala AE. A national survey of pharmacy practice in the United States. Am J Health-Syst Pharm 2016; 73:386-94.
Recent Presentations
Atrial Fibrillation: Pharmacotherapy Options in the Quiver. Thomas MC.  CE Program Numbers 0002-9999-20-081-L04-P (2 hours) and 0002-9999-20-081-L04-T (2 hours). Jefferson Country Pharmaceutical Association (Delivered via Webex), Birmingham, AL, September 10, 2020.
Emergency Medicine PRN Focus Session – Expanding the Horizon of Emergency Medicine Pharmacy Practice in the United States and Abroad. Coccio C (moderator). Thomas MC (A Decade of Accomplishments and Expansion of Practice in the World of EM Pharmacy), McIntyre Jr. M (Opportunities and Knowledge Sharing from Pharmacists Abroad), DeWitt KM (Global Clinical Controversies in Sepsis). CE Activity Number 0217-0000-18-211-L04-P (1.5 hours). 2018 ACCP Global Conference on Clinical Pharmacy, Seattle, WA, October 23, 2018.
CV Strengthening. Thomas MC (0.5 hours). Alabama Society of Health-System Pharmacists, Annual Clinical Meeting, Birmingham, AL, October 4, 2018.
Values based leaders are best equipped to help their academic organizations reach their goals [debate]. Purnell M, Kanmaz T, Leon N, Conway, J Cosler L, Thomas MC, AACP Interim Meeting, San Juan, Puerto Rico, February 27, 2017.
Involvement
American Association of Colleges of Pharmacy (AACP)
American College of Clinical Pharmacy (ACCP)
American Society of Health-System Pharmacist (ASHP)

Co-coordinator, National Clinical Skills Competition

Board of Pharmacy Specialties (BPS)

Vice-Chair, Emergency Medicine Specialty Council