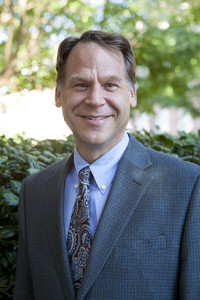 Bruce Waldrop
, Ph.D., RPh
Associate Professor and Chair
McWhorter School of Pharmacy
Department of Pharmaceutical, Social and Administrative Sciences
Office: CHS Building 2 2216
When Bruce Waldrop took a job to make some money, he didn't realize it would lead to a career.
"Originally being a hotel and restaurant management major at UAB, I got a job as a pharmacy technician to help pay the bills. I became fascinated with pharmacy and decided to change majors. I applied only to Samford and was fortunate to be admitted to the program. Part-time work as a tutor in my pharmacology course prompted me to consider pharmacy academia," he said.
In 2003, Waldrop received the opportunity to come back to Samford and teach at McWhorter School of Pharmacy. He has been honored with teacher of the year, most effective lecturer and best lecturer awards for his hard work. "I couldn't be happier with my Samford education and all the great students that I am able to interact with everyday," he said.
Degrees and Certifications
Ph.D., pharmaceutical sciences, University of Kentucky College of Pharmacy
B.S., pharmacy, McWhorter School of Pharmacy, Samford University
Expertise
Social and Administrative Sciences
Cardiovascular pharmacology, signal transduction mechanisms and pharmacy education
Awards and Honors
Teacher of the Year, McWhorter School of Pharmacy, Samford University, 2010
Most Effective Lecturer, McWhorter School of Pharmacy, Samford University, 2008
Best Lecturer, McWhorter School of Pharmacy, Samford University, 2007
Teacher of the Year, McWhorter School of Pharmacy, Samford University, 2006
Phi Lambda Sigma, National Pharmacy Leadership Society
Involvement
American Association of Colleges of Pharmacy