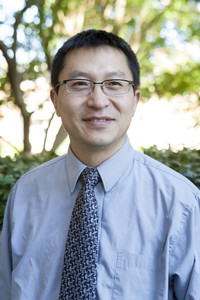 X. Robert Wang
, Ph.D.
Professor
McWhorter School of Pharmacy
Department of Pharmaceutical, Social and Administrative Sciences
Office: CHS Building 2 2235
Robert Wang brings significant experience to McWhorter School of Pharmacy. Wang, who joined the faculty in 2012, recently received his first grant from the National Institutes of Health. He has also received research grants from Cystic Fibrosis Foundation and the American Heart Association. Wang enjoys teaching and interacting with students, and during his career, he has trained three Ph.D. students, two post-doctoral fellows and numerous undergraduate students in their research. He has significant experience in reviewing grant proposals for funding agencies such as the Italian Telethon Foundation, reviewing manuscripts for leading scientific journals such as Nature Chemical Biology, chairing sessions in international scientific conferences, and serving on admissions committee. He loves Samford University's Christian environment and looks forward to integrating his teaching with scientific discovery.
Degrees and Certifications
Ph.D., cell regulation, University of Texas Southwestern Medical Center
M.S., biochemistry, Baylor University
B.S., medical biology, Nankai University
Expertise
Cystic Fibrosis, drug discovery, protein misfolding, molecular chaperones, and pharmacy education
Awards and Honors
Scientist Development Award, American Heart Association
Post-doctoral Research Fellowship, Cystic Fibrosis Foundation
ASCB/Worthington Pre-doctoral Travel Award, American Society for Cell Biology
Involvement
American Association of Colleges of Pharmacy
American Society of Biochemistry and Molecular Biology
Association of Biochemistry Course Directors
American Society for Cell Biology
Recent Publications
Heard, A., Thompson, J., Carver, J., Bakey, M., & Wang, X.R. (2015). Targeting molecular chaperones for the treatment of cystic fibrosis: is it a viable approach? Current Drug Targets, 16(9): 968-974. PMID: 25981601
Wang, X.R.*, & Li, C. (2014). Decoding F508del misfolding in cystic fibrosis. Biomolecules, 4(2): 498-509. (*corresponding author). PMID: 24970227
Kirby, E.F., Heard, A.S., & Wang, X.R. (2013). Enhancing the potency of F508del correction: a multi-layer combinational approach to drug discovery for cystic fibrosis. J. Pharmacol. Clin. Toxicol., 1(1): 1007(1-7). PMID: 24855632
Saxena, A., Banasavadi-Siddegowda, Y.K., Fan, Y., Bhattacharya, S., Roy, G., Giovannucci, D.R., Frizzell, R.A., & Wang, X. (2012). Human heat shock protein 105/110 kDa (Hsp105/110) regulates the biogenesis and quality control of misfolded cystic fibrosis transmembrane conductance regulator at multiple levels. J. Biol. Chem., 287(23): 19158-19170. PMID: 22505710
Banasavadi-Siddegowda, Y.K., Mai, J., Fan, Y., Bhattacharya, S., Giovannucci, D.R., Sanchez, E.R., Fischer, G., & Wang, X. (2011). FKBP38 peptidylprolyl isomerase promotes the folding of cystic fibrosis transmembrane conductance regulator in the endoplasmic reticulum. J. Biol. Chem., 286(50): 43071-43080. PMID: 22030396