Published on April 24, 2019 by Sarah Cain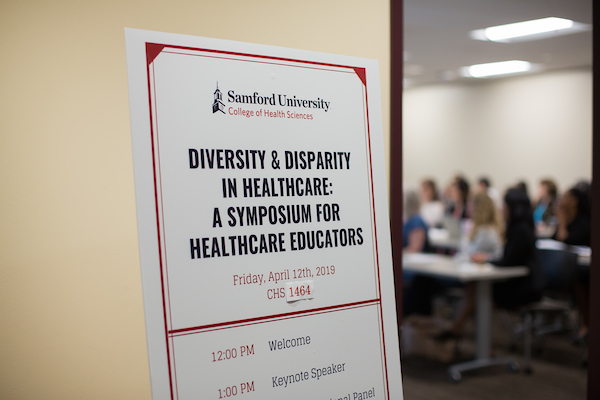 Health care has long been considered problematic as a highly homogenous industry serving an increasingly diverse population. To encourage discussion on this topic, assistant professors Lan Bui and Melanie Manis in Samford University 's McWhorter School of Pharmacy coordinated a  symposium on diversity and disparity in health care. Faculty from all four schools in Samford's  College of Health Sciences gathered to explore their roles as educators in preparing future health care providers who can better serve patients with consideration to gender, race, socioeconomic status and beyond 
"As new pharmacy faculty, we had a desire to engage with other College of Health Sciences faculty, staff, and students through interprofessional education. We received the call for the Faculty Diversity Development Grant in the fall and both thought that it would be a great opportunity to bring awareness of the disparities that exist among racial and ethnic minorities in health care," Manis said.
To develop the symposium, Manis and Bui based the programming on another they previously attended about the disparities in critical care. They then consulted other offices and organizations including Samford's Office of Diversity and Intercultural Initiatives, the Office of Minority Health and Health Equity at Centers for Disease Control and Prevention (CDC), the Pharmacy Continuing Professional Development Office, and the Center for Healthcare Innovation and Patient Outcomes Research.
The symposium included a presentation by keynote speaker James Nelson, the chief diversity officer of the CDC. Additionally, Mike Kendrach, professor and associate dean of academic affairs at McWhorter School of Pharmacy moderated a panel that included Samford professors Maisha Freeman, Scott Bickel, Jennifer Coleman and Keith Elder, and Tina Simpson, a professor at the University of Alabama at Birmingham.
"From Dr. Nelson's presentation and the interprofessional panel speakers, we learned that self-assessment is the first step in diversity and inclusion," Manis said. "Our interprofessional panel and audience had a great discussion about ideas to increase the diversity of several programs that take place amongst our schools, including student orientation activities, standardized patients, and simulation experiences. Our goal is to train and nourish future health professionals who will reflect, understand, and appreciate diversity in health care and the workforce."