Published on March 25, 2020 by Sarah Waller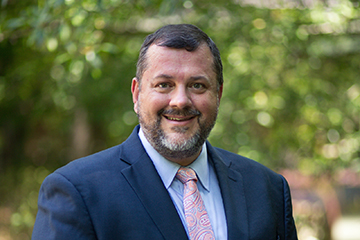 Michael Hogue, a 1996 alumnus of Samford University's McWhorter School of Pharmacy, was sworn in as the 165th president of the American Pharmacists Association (APhA) during a virtual meeting on March 20.
Founded in 1852, APhA is the oldest and largest pharmacy organization in the United States. Hogue is the first Samford alumnus to serve in this prestigious role. Previously, he served APhA as president elect, trustee, and speaker of the APhA House of Delegates.
Much of Hogue's work centers around advancing the role of pharmacists as collaborative members in a team-based, patient-centered model of care. He is highly regarded as an expert in the area of immunization practice, vaccines and vaccine-preventable diseases. Prior to moving into academics, he served in a variety of roles, including owner of a community pharmacy, co-owner of a home infusion company and ambulatory care clinical pharmacist. 
Along with earning his degree at Samford, Hogue joined McWhorter School of Pharmacy's faculty in 2004. He served as chair of the school's Department of Pharmacy Practice from 2008-2016 and interim dean from 2013-2014. With the creation of Samford's College of Health Sciences, Hogue was named associate dean of Samford's Center for Faith and Health. 
In 2018, Hogue was inducted into the Alabama Healthcare Hall of Fame, which recognized him for his outstanding contributions to and rendered exemplary service for health care in the state. Hogue is also a fellow and distinguished practitioner of the National Academies of Practice.
Today, he serves as the dean of Loma Linda University's School of Pharmacy in California.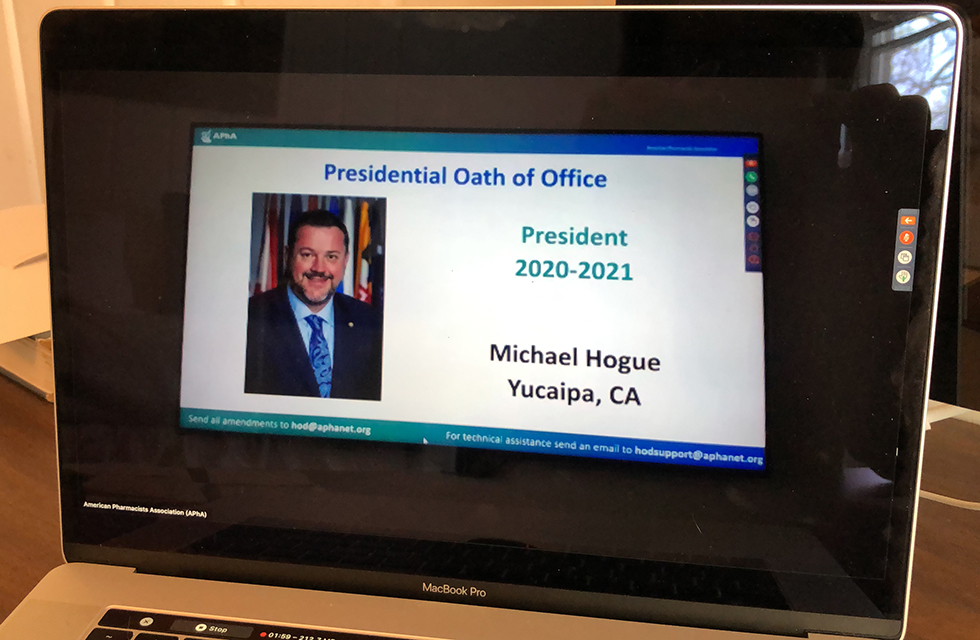 After taking his oath of office, Hogue recognized the unique situation the world is facing, and he expressed words of encouragement and gratitude.
"As far as I can tell, I may be the first president since World War I and II to be inducted under nation emergency circumstances…. It's definitely a unique time," he said.
"I am grateful to all of you for the work you're doing to ensure continued access to medicines and the essential patient care services of pharmacists throughout this global pandemic. I am inspired by the stories of resilience and commitment to your communities and the patients you serve. Pharmacists are uniquely positioned as essential members of the health care team to demonstrate though this crisis our criteria role."