Research is a critical function of our school, as the work of our faculty and staff pushes back the limits of our knowledge. There are two facets of our research programs: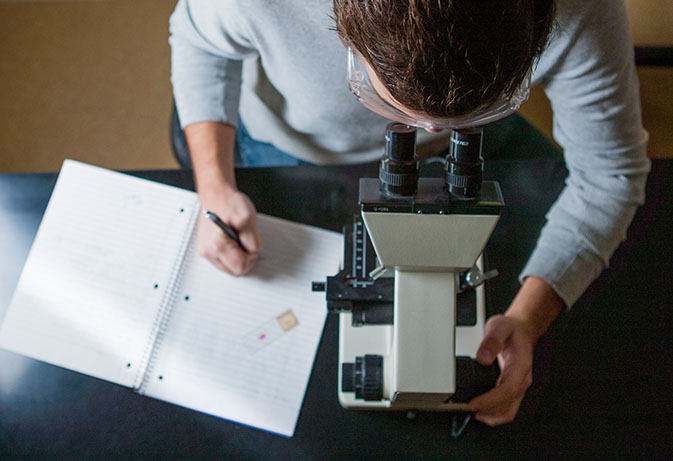 Departmental Research
Many of our faculty are deeply involved in research projects on a variety of topics. Research brings an important dimension to your classroom experience, giving greater depth and context to all that you learn.
There are multiple opportunities for students to become actively involved in research; these include research electives as part of the curriculum course requirement, participating in a summer research internship program and as part of the Capstone senior research project.
To learn more about the summer internship program, please contact Dr. Greg Gorman.
One distinct advantage of the McWhorter School of Pharmacy is our size coupled with the breadth of research programs within our institution. Our size allows for close interactions between the students and the research faculty in all of the modes of research in which students can participate. Our research programs are diverse and include a range of diseases and research topics such as cancer, diabetes, ocular diseases, as well as novel formulation delivery platforms, drug discovery/developments and drug metabolism.
Our laboratory facilities occupy over 1,000 square feet of space and consist of modern chromatographic, spectrometric and instruments for biological based assays which are available to students conducting research.
Student Research
McWhorter School of Pharmacy is committed to providing resources to enhance research efforts in the pharmaceutical sciences as well as contribute to the Samford mission of teaching.
We provide analytical and bio-analytical support to faculty and students who are engaged in scholarly research in the pharmaceutical sciences. Pharmaceutical sciences research involves students as part of their education under the direct supervision of experienced faculty mentors. Samford students will have the opportunity to present their research at local, national or international meetings and to have their work published in peer-reviewed journals.
Pharmaceutical Sciences Summer Internship
The McWhorter School of Pharmacy offers a 10 week summer research internship that provides interested students the opportunity to work in the research laboratory of a pharmacy faculty mentor on a bench based research topic in the basic pharmaceutical sciences. Selection for these internships is competitive and students are paid for their participation.
In February of each year, current P1 and P2 students are notified that the application cycle is open. Students submit a CV and letter of intent and must interview with up to three faculty mentors. Students are typically notified of their selection within 3-4 weeks.
Upon completion of the internship, students are required to submit a written report in a manuscript format detailing their research, results and future directions. Additionally, each student must make an oral presentation to faculty and students at a research symposium held each November. When applicable, students are also encouraged to attend and present their data at national level meetings. Data collected during the summer (as well as during the academic year) are used to generate manuscripts for submission to peer-reviewed journals and as preliminary data in grant applications.
Previous Interns and Research Topics
Learn more about the Pharmaceutical Sciences Research Institute.