Program Summary
The Christian and Religious Studies major prepares students to succeed in many professions. Our graduates thrive as pastors, missionaries, professors, and social workers, as well as in leadership roles in businesses and nonprofit organizations. In the 36 hours required for the major, students explore the Bible, Christian theology, and ministry, as well as the history and philosophy of religion. Students explore the Christian tradition in which Samford is rooted, as well as other religions that shape our world. Our Preministerial Scholars program offers co-curricular discussions, internships and other ministry enrichment opportunities to help nurture students preparing for ministry. Christian and Religious Studies majors are eligible to participate in a fast track option for the Master of Divinity degree or for the Master of Social Work degree.
"Not only has the department prepared and equipped me for ministry, but it has also created lifelong friendships with other students and professors."The Rev. Josh Waugh '12, Worship Pastor at First Baptist Church, Hendersonville, Tennessee
Students participate in courses dedicated to asking and seeking answers to the most important questions about faith, Scripture, history, the realities of ministry, and modern society. In carrying out their studies, students pursue academic excellence in the highest tradition of Christian scholarship, where the pursuit of wisdom and truth is carried out in a way that does not divorce learning from faith. They may take courses focused on ministry such as preaching and pastoral care, as well as internships that strengthen the link between the classroom and everyday life. They are given opportunities to explore diverse cultures and distant lands. The major is part of the broader bachelor of arts curriculum in Howard College and it can easily be combined with other majors.
Students interested in a career in counseling or social work can take part in the fast track program with Samford's social work department and complete both a Bachelor's degree and a Masters in Social Work in five years. Students should apply for this course as early as possible using the forms on the MSW fast track page.
Christian and Religious Studies majors who also complete a general business minor as part of their undergraduate program are eligible to enter into Samford University's fifth-year MBA program.
The professors have been the most impactful part of the department for me. They bring so much to the table – their wisdom and experience paired with their academic and biblical knowledge allow for some of the most stimulating and informative conversations I have ever had. It's the relationships they offer, however, that really impacted me. I know that no matter how many years separate my graduation and the present day, I will be able to call any of them for guidance for assistance and they will point me in the right direction. Anne Marie Vines '21, Neighbor Services Manager, GraceWorks Ministries, Franklin, TN
Objectives & Goals
Students will be skilled in interpreting the Bible according to several different approaches. They will be knowledgeable about the religions of the world—their varieties, similarities, and role in history and contemporary affairs. They will be skilled participants in Christian theological traditions, able to contribute to them by persuasive analysis and argument. They will understand how social structures shape religious life and have the opportunity to develop skills in several forms of ministry. Students who are particularly interested in focusing their studies on practical skills for ministry may wish to complete the Christian and Religious Studies major with a Concentration in Ministry Leadership.
Is This Program for Me?
The Christian and Religious Studies major is for many types of people, including students who wish...
To gain a deeper knowledge of the Bible.
To develop skills for a career in Christian ministry, missions, or service.
To lay a foundation for further study in seminary or graduate school.
To explore the rich history of Christianity.
To learn more about other religions such as Judaism, Islam, Hinduism, and Buddhism.
To sharpen their ability to ask good questions, think deeply, and communicate clearly.
To explore their own faith and discover new ways to serve God and neighbor.
What Makes Us Different?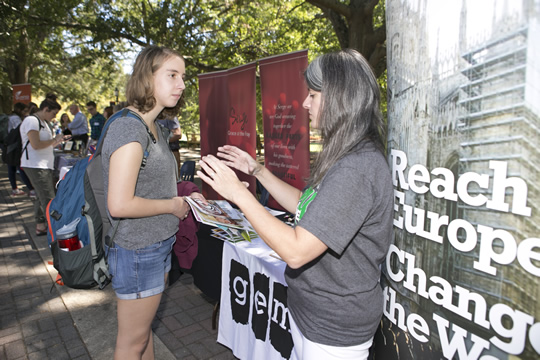 Personal Attention
Students forge personal relationships with professors. Small classes, one-on-one advising, discussion groups, and informal meetings in professors' offices and homes facilitate in-depth conversations, careful directions, and life-long friendships.
Scholarship and Ministry
Our department is distinctive in offering rigorous courses in both the study of religion and in religious leadership. All professors hold doctoral degrees in their field and many have seminary degrees and serve in local churches and ministries; some pastor Birmingham congregations. Students can, for example, study the religions of Asia, the latest scholarship on the Bible, and how to preach the gospel all in the same semester. Some students focus on the academic study of religion, others on preparing for ministry. All learn to think critically and faithfully about religion.
Joint Programs
The Christian and Religious Studies major may be easily combined with most other majors in the Howard College of Arts and Sciences. You can also participate in fast-track programs for the Cumberland School of Law and the master of social work degree from the School of Public Health.
Career Preparation
Market Ready
Through internships, directed research, challenging courses, and hands-on advising, Samford Christian and Religious Studies majors sharpen their skills and knowledge in religious studies and ministry. They have the opportunity to preach weekly through Samford Sunday and develop research skills in independent studies. Students graduate prepared to be leaders in today's complex religious world.
Internships
Our students have had internships in many settings. Here are a few: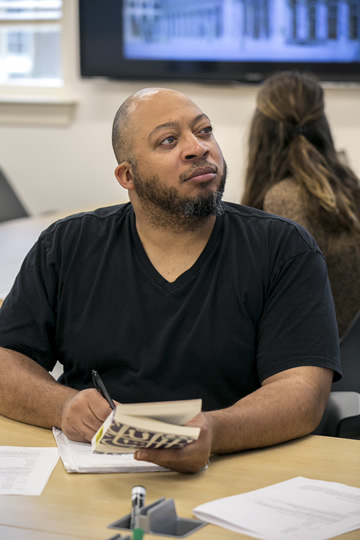 Churches
Baptist Church of the Covenant
Canterbury United Methodist Church
The Church at Brook Hills
Mountain Brook Presbyterian Church
Shades Mountain Baptist Church
Sixteenth Street Baptist Church
Mountain Brook Community Church
Non-profit Organizations and Ministries
Alabama Appleseed Center for Law and Justice
Apologetics Resource Center
Campus Outreach
Children's Hospital
First Priority of Alabama
Grace House Ministries
Samaritan Counseling Center of Birmingham
Sav-A-Life Pregnancy Resource Center
Student Life
The Eternal Word Television Network
The Vineyard, Hoover
The WellHouse
University Christian Fellowship
Woman's Missionary Union
Accolades, Alumni & Faculty
Awards & Recognition
Will's Dean's Scholarship Award, Will Kynes, 2022
Dean's Award for Outstanding Teaching, Lisa Battaglia, 2020
Co-winner of the Biblical Foundations Book Award (Old Testament), Will Kynes, 2019
Southeastern Theological Fellowship Award for excellence in scholarship, Roy E. Ciampa, 2019
Faculty Teaching Award, Jeffrey M. Leonard, 2019
Dean's Award for Teaching, Jeffery M. Leonard, 2017
Dean's Award for Research, James R. Strange, 2015
Lilly Fellows Program in Humanities and the Arts, Regional Conference Grant for conference "Teaching the Christian Intellectual Tradition: Augustine Across the Curriculum," T. Scott McGinnis 2014
George Macon Memorial Award for teaching, Penny Long Marler, 2013
Elected to membership in

Studiorum Novi Testamenti Societas (Society for New Testament Studies), Roy E. Ciampa, 2012

Alpha Iota Epsilon Chapter of Theta Alpha Kappa, the national honor society for religious studies and theology, chartered 2008
Distinguished Book Award, Society for the Scientific Study of Religion, 1998 (to Penny Long Marler for Being There: Culture and Formation in Two Theological Schools)
Alumni Careers
ministry
social work
education
law
business
publishing
missions
history
biblical studies
evangelism
psychology
finance
Notable Alumni
Shelah H. Acker (1996), director, Refuge and Hope International, Kampala, Uganda
Karon O. Bowdre (1977), chief judge, U. S. District Court, Northern District of Alabama
Cedric Bridgeforth (1997), pastor, Grace United Methodist Church, Los Angeles, California , past chairperson of Black Methodists for Church Renewal
Sarah Chandler Davidson (2010), clinical therapist, Dekalb Community Service Board, Atlanta, Georgia
Jenny Eaton Dyer (1998), executive director, Hope through Healing Hands, Nashville, Tennessee
Chad Eggleston (1999), Dean of Arts and Sciences at McLennan Community College in Waco,Texas
Whit Goodwin (2002), director of student life, Houston Baptist University, Texas
Scott Guffin (1988), Assistant Professor and Executive Director of Christian Ministry, Samford University
Adam W. Greenway (1998) President and Professor of Evangelism and Apologetics, Southwestern Baptist Theological Seminary, Fort Worth, Texas
Brad Landry (2003), rector. St. Paul's Episcopal Church and Montessori School, San Antonio, Texas
Jason Loscuito (1996), college chaplain, Converse College, Spartanburg, South Carolina
Tyler Mayfield (2002), A. B. Rhodes Professor of Old Testament, Louisville Seminary, Kentucky
R. Albert Mohler, Jr. (1980), president, Southern Baptist Theological Seminary, Louisville, Kentucky
Rob Pacienza (2003), lead pastor, Coral Ridge Presbyterian Church, Fort Lauderdale, Florida
April L. Robinson (1993), Assistant Vice President for Student Development and Support, Samford University
Nathan Smith (1975), professor of psychiatry and assistant dean of admissions (retired), School of Medicine, University of Alabama at Birmingham
Chris Thomas (2006), pastor, First Baptist Church of Wilson, North Carolina
Megan E. Zeien (2001), physician, Medical Centers OB/GYN, Guntersville, Alabama