Published on September 11, 2019 by Sean Flynt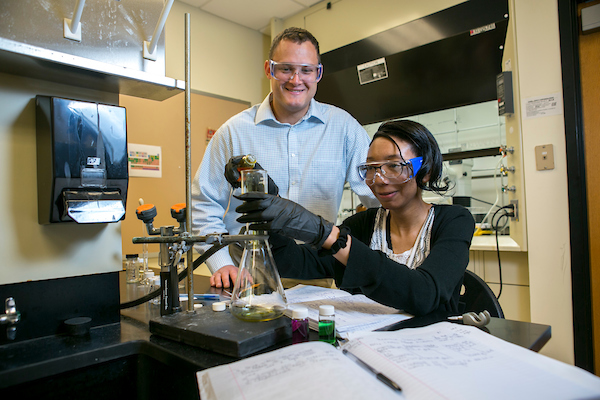 Faculty-led research with student collaborators is the distinctive focus of Samford University's Department of Chemistry and Biochemistry. The immersive, one-on-one experience creates opportunities for professional networking and publication in peer-reviewed journals, and helps open the doors to graduate education and careers. Student and faculty researchers made that point clear this summer by publishing two research articles in The Journal of Organic Chemistry.
Professor Paul Wiget led the project published as Electronic Donation or Steric Contraction: A Spectroscopic and Structural Analysis of Medium-Sized Constrained Rings for Potential Long-Range Hyperconjugation, which included student researchers (now alumni) Bryan Bashrum, Carolyn Birchfield, Jessica Joy, Robert Lee, Jake Massey, Jillian Walters and Monica Zanghi. The work included three researchers from other universities (Ethan C. Cagle, David French and Gabriel dos Passos Gomes,) but all the molecules were made by Samford students. This article was the second Wiget-led publication in the journal. The previous article included Samford alumni Ellie Berry and Alex MacLean as authors.
Professor Dale Wilger led the project published as Nickel-Catalyzed Hydroarylation of Alkynes Under Reductive Conditions with Aryl Bromides and Water, which included student researchers E. Ryan Barber, Emily T. Fredrickson, Hannah M. Hynds, Holli E. Lemons and Claudia P. Stephens.