Published on October 12, 2020 by Sean Flynt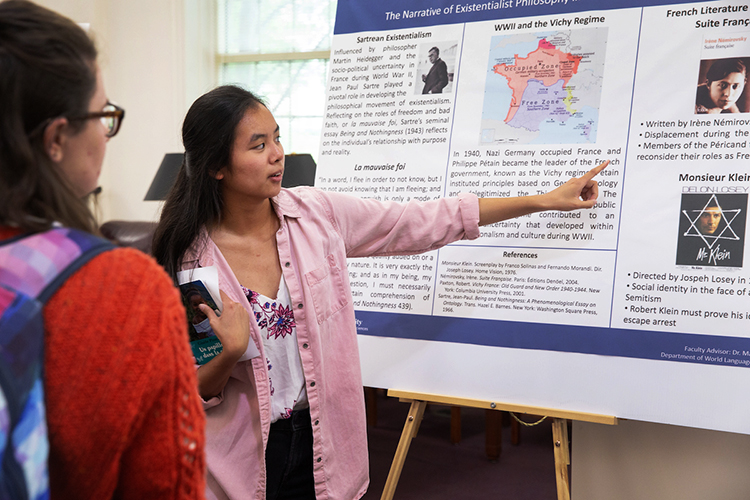 Samford University French, Global and Cultural Studies and University Fellows alumna Mia Owens '19 has earned a prestigious two-year fellowship to research and develop interpretive material about the history and legacy of slavery throughout Washington, D.C., and research and write for The White House Historical Association's Slavery in the President's Neighborhood initiative. The fellowship—offered for the first time—is a partnership between The White House Historical Association (WHHA) and the Antiracist Research & Policy Center at American University (AU,) where Owens is pursuing a master's degree in public history. The Washington Post explored the unique initiative in an Oct. 12 article.
Owens got hands-on experience with public history projects at Samford. She conducted oral history interviews for professor Anthony Minnema's Faith and History course, and was instrumental in developing the Rosedale community project in professor Annie DeVries' Digital History course. After graduating from Samford, Owens served as an AmeriCorps Local History member for the Ohio History Service Corps.
The work Owens will do in the nation's capital will build on all of that experience and make a significant contribution to the city's history. "The creation of this fellowship is an important opportunity to deepen our understanding of slavery's enduring legacy in our nation's capital," said Stewart McLaurin, President of the White House Historical Association, in a Sept. 20 news release announcing the honor. "The protests that have erupted this summer over issues of racial injustice are a stark reminder of how important this work is. We're thrilled that Mia will join us as the first Fellow to take on this historically vital work."
During the 2020-21 academic year, Owens will conduct research and create public-facing content with the support of a mentor from The David M. Rubenstein National Center for White House History at Decatur House. The following year, she will work with the Antiracism Center under the direction of a faculty supervisor and center Managing Director Christine Platt. Her fellowship duties will focus on historical research, interpretation and public engagement in connection with the history and influence of slavery at AU, applying skills learned from the WHHA and building upon work done by the Working Group on the Influence of Slavery at American University. "The Antiracist Research and Policy Center welcomes Mia and is excited to partner with WHHA on this inaugural fellowship that will examine the history and lasting implications of slavery in Washington, DC," Platt said. "Mia's research will help fill the gaps in historical knowledge and the legacies for AU's campus and the surrounding neighborhoods."
"This is an exciting time to be involved in public history," Owens said, "I'm looking forward to working with The White House Historical Association, and getting to know the community at AU and exploring how public history can be part of the work at AU around diversity and inclusion."