Published on October 26, 2021 by Sean Flynt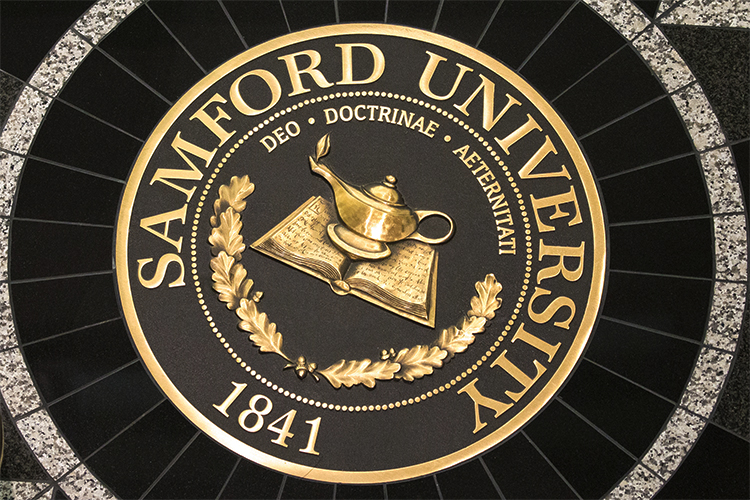 Undergraduate research and professional mentoring are key emphases of Samford University's Howard College of Arts and Sciences (HCAS). Five HCAS students were recently chosen to present their faculty-mentored research at 2021 Southern Conference (SoCon) Undergraduate Research Forum (SURF) Conference at Wofford College Oct. 29-30.
Georgia Buchanan, Merritt Cahoon, George (Whitman) Kent, Chloe Pappa, Aubrie Strange and Sarah Thomas will join 150 students, faculty and staff from all 10 SoCon institutions for the two-day event featuring research projects in the arts, humanities, and STEM disciplines.
Communication and media student Georgia Buchanan (mentor Julie Hedgepeth Williams) will present "A Story is Born: A study on the historical relationship between American Television and the pregnancy narrative."
Math and computer science student Merritt Cahoon (mentor Ishfaq Ahmad) will present "Robot-ouille: The In-Home Cooking Assistant that Serves Independence with Food."
Communication and media student Aubrie Strange (mentor Clay Carey) will present "Acknowledging the Accent: Broadcast news speech style and its effect on personal confidence in natural manner of speech."
Biological and environmental sciences student Sarah Thomas (mentor David Johnson) will present "Further molecular characterization of novel planarian (Phagocata sp.) from Blount County, Ala."
Psychology students George (Whitman) Kent and Chloe Pappa (mentor Kimberly Wood) will present "Social Media and Anxiety's Effect on Critical Thinking."
Samford psychology professor Amanda Hiles Howard and Human Development and Family Science chair Kristie Chandler will accompany the students to Wofford College as faculty liaisons.