Journalism and Mass Communication
The Journalism and Mass Communication program offers tracks in print journalism, broadcast and electronic journalism, public relations and advertising. The department also houses a film production minor and a sports media minor, as well as coursework in church media, social media and photojournalism.
Samford combines a classic liberal studies education with hands-on professional training. Because of this, our students have a wide career market available to them upon graduation. Our alumni regularly go into careers in magazines, television, video production, public relations, advertising, marketing, sports information, media research, media sales, law, ministerial communication, broadcasting and book publishing.
Every single day that I spent at Samford prepared me for the "real world." From technical skills like how to write a press release or deliver a presentation to general life skills, I'm grateful for my Samford degree everyday. Allie Klaubert - Senior Manager, Markstein Strategic Communications Agency
Mass communication is intrinsic to all aspects of life. As a result, it is perhaps the most vital discipline for understanding the world in the 21st century. With this in mind, Samford must help students not only understand media culture but also learn to become ethical communicators. Our mission is to prepare students to contribute to the greater Christian community by making a difference in the American media culture.
Communication Studies
Students learn how to communicate effectively in a variety of settings, contexts, and cultures. We teach the importance of understanding messages people send each other, whether those messages occur in intimate contexts, such as personal relationships, or in more public arenas, such as business, politics, law, and even the church.
Whether it's helping out with applications or finding opportunities to showcase our accomplishments, the faculty do a remarkable job of fostering the academic growth of communication studies majors. The skills and opportunities I have found in the department have literally taken me across the globe, from California to Japan. Natalie Bennie, National Debate Scholar, Debate All-American, U.S. National Debate Team member
Our focus is on the people sending and receiving messages. We're different from journalism and mass communication programs-they focus on the medium (newspapers, television), while we focus on how people communicate verbally and nonverbally. Our program is broad and quite flexible; we help you learn about communication issues that arise in practically every facet of life. We address questions such as:
Why do people say the things they do?
How can you design a message to motivate and persuade others?
What strategies work best for resolving conflicts?
How can you communicate effectively with people from other cultures?
Why do people sometimes misunderstand each other?
Students around the nation are changing their majors to Communication Studies to better prepare for their future. The Department of Communication Studies at Samford University has won eight awards for outstanding teaching, and we have a very active program of student research that has been recognized as one of the finest in the country. In fact, our department was recently selected for inclusion in Kevin Kecskes book, Engaging Departments, as an example of academic excellence.
Tens of thousands of students in the U. S. earn college degrees each year. A strong department can actually help you stand out from the rest of the crowd. We have many programs designed to do just that. And, you should realize that employers rank communication skills as #1 in importance-regardless of the job. Our graduates secure extremely successful careers in an amazingly wide variety of fields.
Lambda Pi Eta Honor Society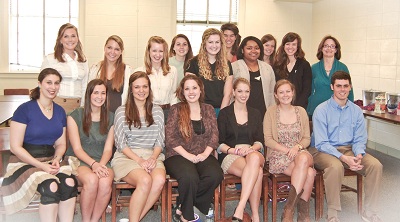 We have a very active chapter of Lambda Pi Eta, which is the official honor society of the National Communication Association. There are over 400 active chapters around the world. The name is representative of Aristotle's description of the elements of persuasion: logos (Lambda), pathos (Pi), and ethos (Eta). To join this organization, a student must have a minimum cumulative 3.0 GPA with at least 60 credit hours of college coursework completed, and must have a 3.25 minimum GPA for all communication courses with at least 12 semester credits completed.
Our chapter, Omicron Rho, is involved each year in Samford's Earth Day and we've won awards for our assistance with organizing the event. And for Earth Day 2008, our display booth was voted "Most Creative." In addition, the chapter is responsible for sponsoring most departmental parties, such as our annual fall party and spring awards ceremony.
News

Communication and Media Professor Wins Three Awards for Research
Communication and Media Assistant Professor Danielle Deavours won three awards for her research during the 2022-2023 academic school year. She said it's something she never imagined would happen in her first year as a faculty member at Samford University.  

Communication and Media Students Win Big at Southeastern Journalism Conference
Communication and Media students won a total of 12 awards at the Southeastern Journalism Conference in Thibodaux, Louisiana, Feb. 9-11.  

Junior Varsity Debaters Place Second at Georgetown Tournament; Varsity Debaters Defeat Harvard
Samford University's Debate team competed at the Georgetown University Tournament in Washington, D.C., January 5-8, 2023.