The Master of Music degree in Piano Performance & Pedagogy prepares rising artist/teachers to be professional performers, scholarly musicians, and inspirational teachers. Emphasis is placed on cultivating musical artistry and pedagogical professionalism, together with developing one's research skills. The degree requires two recitals and an oral comprehensive examination.
Students study with experienced and diverse faculty, perform individually as well as with chamber and large ensembles, and gain exposure to international concert artists and pedagogues. Instruction occurs through individual private training, master classes, seminars, workshops, and a 60-hour teaching internship. Students have opportunities to present research at local & national conferences, serve in leadership roles, and mentor undergraduate students through structured coaching/masterclass settings.
View Course of Study Audition Expectations
Audition Expectations
Solo piano performance (memorized) of at least 30 minutes in duration. Should include literature from at least three contrasting style-periods.
Interview to discuss educational & professional goals.
Scholarships available through the Annual Morris Piano Competition. 
Performance Opportunities & Venues
Chamber Ensembles
Pianists perform in a variety of ensembles including the Jazz Band, Orchestra, Wind Ensemble, and small chamber ensembles. Not only do these ensembles perform on campus but also offer opportunities to travel both nationally and abroad.
Competitions
Students are prepared to compete in local, regional, and national piano competitions and festivals. Additionally, prospective graduate students are eligible to participate in Samford's annual Morris Piano Competition and Festival as well as in the annual concerto competition.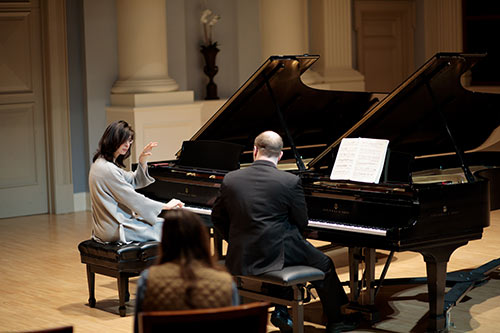 Guest Artist and Masterclasses
Samford invites concert artists to interact with students, providing essential networking experience with industry professionals. Over the years, Samford has hosted some of the world's best artists including Leon Fleisher, Jon Nakamatsu, Vadym Kholodenko, Jeremy Denk, Robert Plano, Gabriela Montero, and Marina Lomazov.
Performance Venues
Piano students have access to a variety of instruments and performance locations on campus. Students enjoy applied lessons in large studios equipped with two grand pianos. Additionally, Brock Recital Hall, Bolding Studio, Reid Chapel, and the Wright Center for Performing Arts all have concert grands and are renowned for their aesthetics and superior acoustics. Students also have access to practice and perform on an Italian modeled two-manual harpsichord as well as Nord stage pianos. Graduates are prepared for careers as performing artists, pedagogues, church musicians, and/or advanced degree programs.
Learn more about our performance venues.
Keyboard Faculty