Published on October 18, 2019 by Sarah Waller  
In a conference room on the third floor, first-year graduate students from a diverse range of health care professions sit and talk to one another, asking questions about the individual roles each of them plays in practice. The conversation flows easily. "I'll admit, I didn't know a social worker could have a clinical role," said a student at the end of the table. A few minutes later, another student asked, "Can you explain to me the difference between physical therapy and occupational therapy?" While in the back corner, a nursing student is having a side conversation with a new pharmacy student about a drug they both read about in the news earlier that day.
This is just their first week.
At the start of each academic year, faculty in Samford University's College of Health Sciences host an annual interprofessional education event for all first-year graduate students in the college's four schools. The purpose of the event is as simple as its name. "We created this event with the purpose of starting all first-year graduate students with an understanding of interprofessional education, knowing that they will progress through their respected programs together," said Mike Kendrach, professor and associate dean for academic affairs in McWhorter School of Pharmacy.
Through small group sessions, students are encouraged to talk to each other and ask questions about how they would handle specific situations. "We find that our incoming students have varying levels of interprofessional experience. For example, many graduate nursing students have worked in hospitals, so they understand it well while other students may have no practice experience at all," Kendrach said. "This is why this event is important. Our students have so much that they can learn from each other."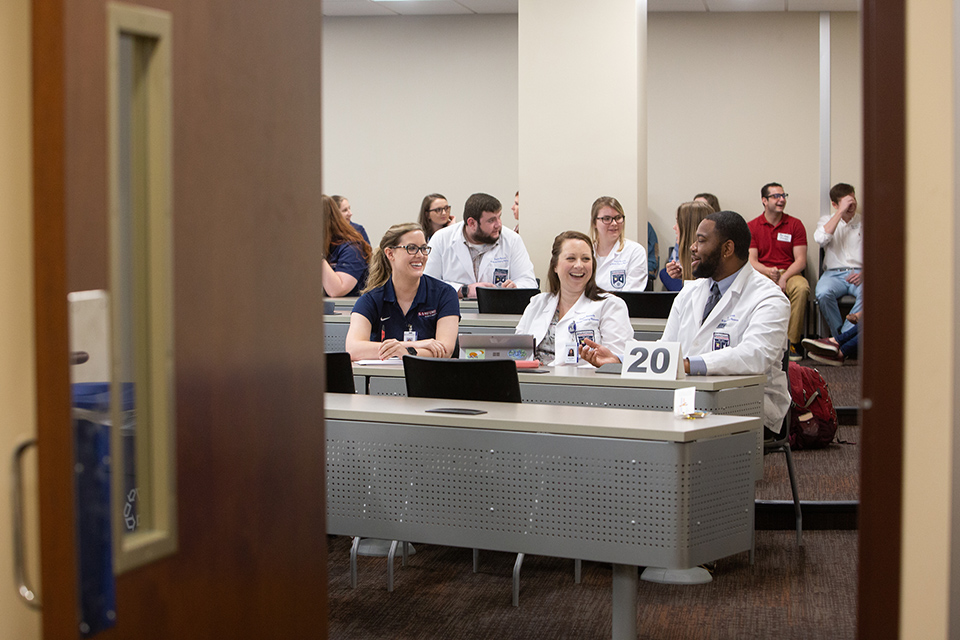 As the semester continues, these students will quickly learn that this event is just the beginning of their interprofessional work.
While the college's four schools prepare graduates for their specific scopes of practice, distinctive in their readiness of knowledge, practice, service and faith, together, they work to prepare the next generation of our health care workforce, meeting the industry's demand for collaborative practitioners to serve in today's team-based approach to care.
Defining Our Framework
In 2010, the World Health Organization published an official definition of interprofessional education. "Interprofessional education occurs when students from two or more professions learn about, from and with each other to enable effective collaboration and improve health outcomes," it said.
"From the very beginning, interprofessional education was set as the cornerstone for the college," said Nena Sanders, vice provost for the College of Health Sciences and dean of Ida Moffett School of Nursing. "We set out with the purpose of preparing our students to know how to work together, practice together and conduct research together in order to ultimately improve patient outcomes."
When Samford University announced the creation of the College of Health Sciences in 2013—uniting its established Ida Moffett School of Nursing and McWhorter School of Pharmacy with its newly created School of Health Professions and School of Public Health—faculty began to develop a framework that outlined the college's commitment to interprofessional collaboration.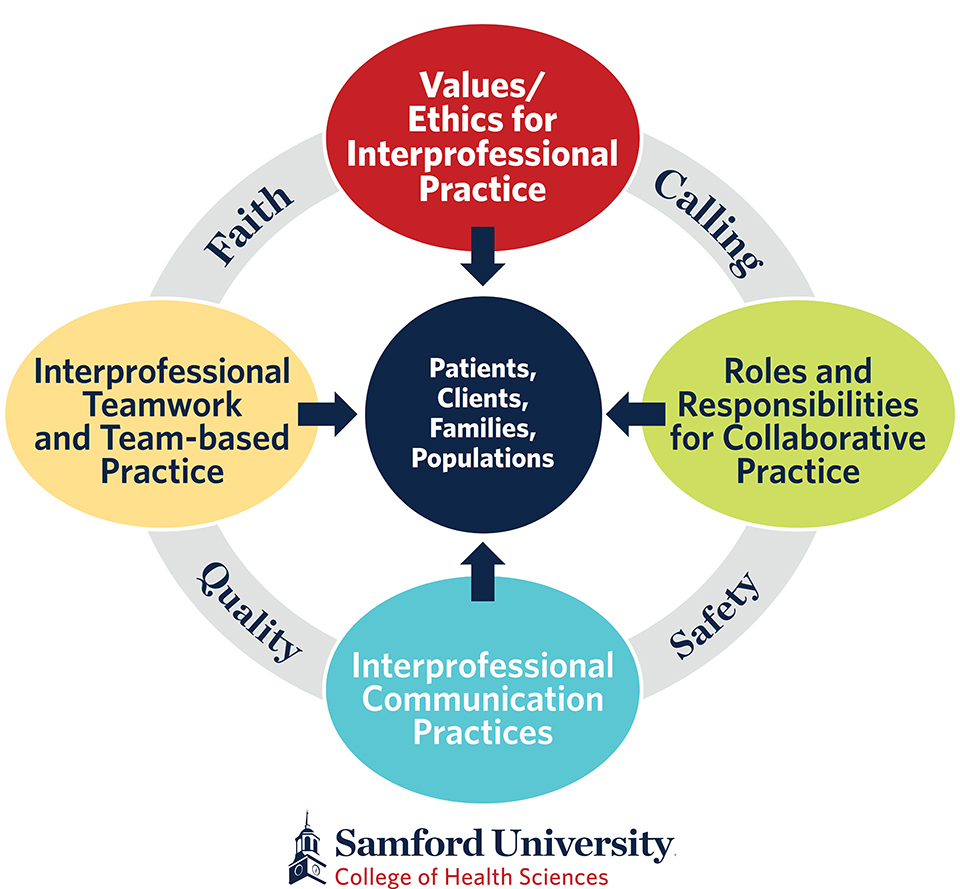 Using the four competency domains as described by the interprofessional education collaborative, faculty developed a framework that added the elements of faith, calling, quality and safety.
"Here at Samford, we believe that our faith and calling inform and connect our work within these four domains," Sanders said. "It was also important for us to incorporate elements of quality and safety since quality improvement and patient/client/population safety are crucial, pervasive aspects of providing care." 
At the center of this framework are the patients, clients, families and populations students are preparing to serve. "Because we know that on the other side of every one of our graduates is ultimately a patient," Sanders said. 
Interprofessional Education in Action
This interprofessional framework is on display throughout the college—from interdisciplinary courses, collaborative research and multitiered service projects—but nowhere is it more visible than in the College of Health Sciences' Experiential Learning and Simulation Center.
Comprised within a single floor in the College of Health Sciences facilities—spanning nearly 22,000 square feet—the Experiential Learning and Simulation Center hosts multiple interprofessional simulation activities every day. In the morning, undergraduate nursing and Master of Social Work students can be found working together in the home health lab for a palliative care simulation. In the afternoon, Doctor of Pharmacy and Doctor of Physical Therapy students are completing patient evaluations together in the center's patient exam rooms. While at the same time, over in the skills and assessment labs, undergraduate kinesiology students are practicing basic skills, like how to start an IV.
"Our space is unique because everything is contained within a single floor," said Jill Pence, executive director of the center.
"The combination of having different levels of simulation—from clinical labs to our high-fidelity suite—within the same space gives our students the advantage of experiencing various clinical settings before stepping into practice."
During the 2018-19 academic year, the center measured more than 18,000 student visits to the floor, and this number is projected to increase with new academic programs on the horizon. Each year, the center hosts large-scale interprofessional simulations, including its acute care simulation in the fall. "We convert our simulation floor into a hospital with units representing emergency, medical-surgical, intensive care and more," Pence said. "While we hold similar simulations throughout the year, they do not compare to the size and scale of the acute care simulation. Our goal is to provide a true reality of what it would be like to work in a clinical setting like a hospital—from the types of patients to the interprofessional health care team."
But these interprofessional activities are not confined to this floor. One of the college's long-standing interprofessional activities takes place in a court room. Each fall, second-year Doctor of Pharmacy students and first-semester undergraduate nursing students participate in an interprofessional mock trial event to discuss the topic of health care laws and patient privacy.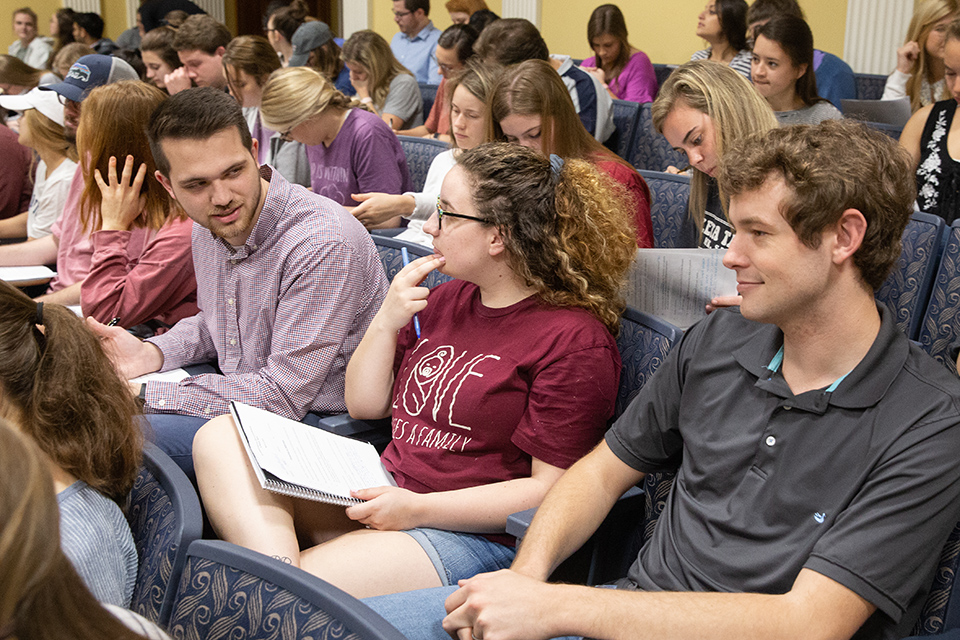 "We feel it's important for these students, who are relatively early in the programs, to discuss these topics and reinforce what they have learned about privacy laws. It's critical that they understand the laws and the resources available to them to protect their patients," said Lori Harrison, an instructor in Ida Moffett School of Nursing, who collaborated on the activity with Amy Broesker, a professor in McWhorter School of Pharmacy. "Discussing this in an interprofessional setting just takes it to the next level. Since they will work together when they graduate, it's important that the collaboration starts now." 
The Pursuit of Interprofessional Scholarship
Just as the opportunities for interprofessional education have increased exponentially since the four schools moved into the College of Health Sciences facilities, so have the opportunities for interprofessional scholarship.
Following the university's first interprofessional activity in 2008—between students in McWhorter School of Pharmacy and Ida Moffett School of Nursing—faculty and students wrote and published their first scholarly article on the topic: "Interprofessional Education Sessions Involving Doctor of Pharmacy, Bachelor of Science in Nursing and Nurse Anesthetist Students." The article included seven co-authors from the two schools. 
Since that publication, faculty in the College of Health Sciences have published 14 scholarly articles, made 56 poster and podium presentations and received seven grants relating to interprofessional collaboration. 
In addition, faculty have become increasingly active with interprofessional education at the national level. Samford University had the largest contingent of attendees at the National Academies of Practice's Annual Meeting and Forum this year, where faculty made several poster and podium presentations.
To support these scholarship initiatives, the College of Health Sciences established the Fellowship for Interprofessional Development at Samford (FINDS) to offer opportunities for faculty to gain additional competence in interprofessional collaboration while simultaneously developing projects that further advance interprofessionalism within the four schools.
Since its inception, 26 faculty members have completed the fellowship program. Ahinee Amamoo, an associate professor in the School of Public Health, participated in the program's most recent cohort and facilitated a project with Angela Wilson, an instructor in Ida Moffett School of Nursing. "With our project, we worked to develop a home-based simulation that would develop students' communication skills to convey hope and identify hopelessness with stroke patients and their caregivers," she said. "While Angela and I worked together on this project, our cohort of FINDS fellows provided an additional layer of collaboration and support."
Internalizing the Concept through Interprofessional Practice
As Samford faculty work with students to expand their understanding of interprofessional education and scholarship, they are ultimately working toward the goal of interprofessional practice.
"Our students have internalized the concept of interprofessional education. It is not difficult for them to come together and understand the roles that each have in the provision of care," said Sanders. "We see this in the projects they initiate, asking themselves the question, who else should be here?" 
One of the most common ways this interprofessional practice is organized by students is through service learning. In the spring of this year, the Samford's chapter of the Student National Pharmaceutical Association (SNPhA) initiated, organized and administered a city-wide health screening. With roughly 182 student volunteers, representing eight different health professions, the initiative reached more than 480 patients in Birmingham on a cold Saturday morning in February.
"Our organization is focused on pharmacy and health care issues among underrepresented minorities. Throughout the year, we work to coordinate and execute programs that improve health, as well as educational and social aspects of the community," said Bobby Green, a fourth-year Doctor of Pharmacy student and current president of SNPhA. "For us to do this well, we think it's vital that we work with other health providers to provide the best patient care."
While there are many opportunities for service in the Birmingham area, students also experience interprofessional practice in communities throughout the country and around the world. In August, a group of Doctor of Physical Therapy and Master of Science in speech language pathology students in the School of Health Professions traveled to Quito, Ecuador, for an interprofessional service learning trip. 
Working primarily at schools for children with special needs and triage clinics outside of the city, students were paired in collaborative teams, allowing each discipline to observe and interact with the other. "Interprofessional practice is really a blend of interprofessional education because our students are always learning," said Sarah Ross, an assistant professor in the School of Health Professions. "I don't just want our physical therapy students to walk away and say, 'Oh, this is what a speech-language pathologist can do.'"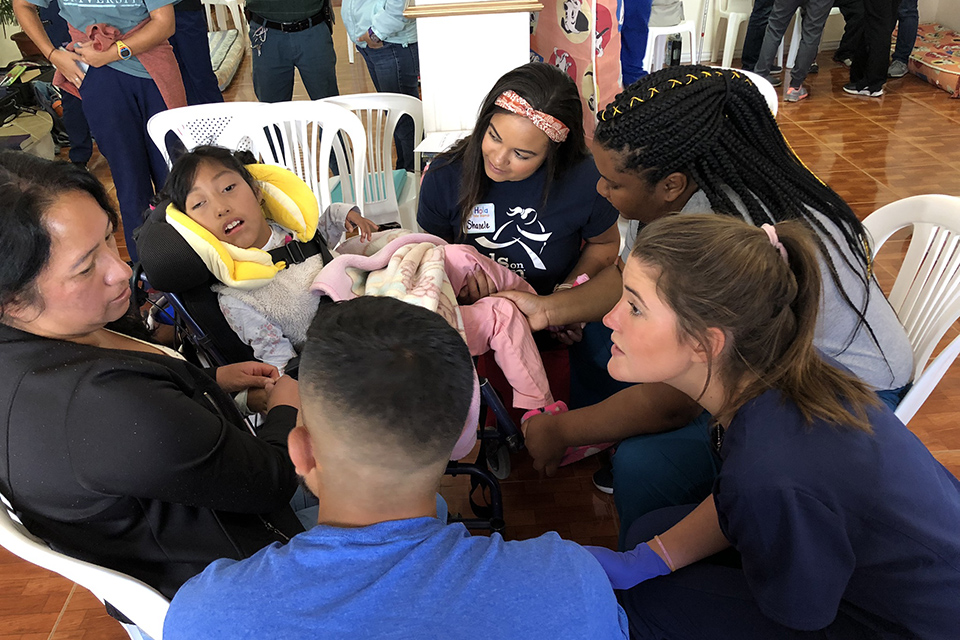 "Instead, I want our students to interact and learn from speech language pathology to see what techniques they could incorporate into their own practice," she continued. "There is no reason why we can't utilize some of the techniques we learn from our speech colleagues. By doing this, we can better meet the needs of our patients, which is what we're ultimately here to do."
Samford is a leading Christian university offering undergraduate programs grounded in the liberal arts with an array of nationally recognized graduate and professional schools. Founded in 1841, Samford is the 87th-oldest institution of higher learning in the United States. Samford enrolls 5,791 students from 49 states, Puerto Rico and 16 countries in its 10 academic schools: arts, arts and sciences, business, divinity, education, health professions, law, nursing, pharmacy and public health. Samford fields 17 athletic teams that compete in the tradition-rich Southern Conference and ranks 6th nationally for its Graduation Success Rate among all NCAA Division I schools.