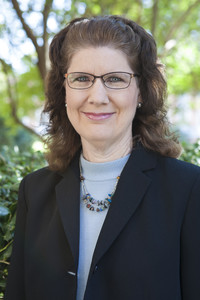 Professor
McWhorter School of Pharmacy
Department of Pharmaceutical, Social and Administrative Sciences
2231 CHS Building 2
Amy Broeseker says it was very clear to her that God wanted her at Samford. "By seeing the joy of helping others through the work of my father (a teacher) and my mother (a nurse), I thought I might enjoy the combination of those two vocations by teaching in the health care field someday. Several things happened to point me to this very special place and it is such a blessing to be here."
She began her time at Samford in 1994 and thoroughly appreciates interacting with students, faculty, staff, and alumni. During her spare time, she enjoys her passions for music, mountains, gardening, and college sports. Her life verse is Jeremiah 29:11, "For I know the plans I have for you," declares the Lord, "plans to prosper you and not to harm you, plans to give you hope and a future."
Degrees and Certifications
PhD, University of Alabama
PharmD, University of Florida
BSN, University of Florida
Fellowship, DuBow Family Center for Research in Pharmaceutical Care, University of Florida
Certificate in Thanatology, University of Alabama
Interests
Teaching: Foundations of the pharmacy profession, ethics in Christianity and health care, physical assessment, interprofessional education
Service: Ethics, spirituality, interprofessional education
Research: Science of learning, interprofessional education, ethics, social and emotional learning 
Awards and Honors
Commitment to Student Success Award, 2013
Best Motivator Award, 2009
Speaker at the McWhorter White Coat Ceremony, 2005
Teacher of the Year Award, 1996
Hoechst-Roussel Excellence in Clinical Pharmacy Award, 1992
Involvement
American Association of Colleges of Pharmacy
American Pharmacists Association
American Educational Research Association
Academy for Professionalism in Health Care
Christian Pharmacists Fellowship International
Recent Publications
D'Souza B, Broeseker AE. Ascertaining and promoting effective study skills and learning habits of first-year pharmacy students. Currents in Pharmacy Teaching and Learning 2022; 14(5):561-571. DOI:10.1016/j.cptl.2022.04.011.
Reeves L, Robinson K, McClelland T, Adedoyin CA, Broeseker A, Adunlin G. Pharmacist interventions in the management of blood pressure control and adherence to antihypertensive medications: A systematic review of randomized controlled trials. Journal of Pharmacy Practice 2020; DOI:0897190020903573.
Collins A, Broeseker A, Cunningham J, Cortes C, Beall J, Bigham A, Chang J. A longitudinal online interprofessional education experience involving family nurse practitioner students and pharmacy students. Journal of Interprofessional Care 2017; 31:2, 218-225. DOI:10.1080/13561820.2016.1255600.
Wensel TM, Broeseker AE, Kendrach MG. Design, implementation, and assessment of an Integrated Pharmacy Applications course series. Currents in Pharmacy Teaching and Learning September-October 2014; 6(5):706-715.
Smith WT, Catney CM, Rickles NM, Hermansen-Kobulnicky CJ, Broeseker AE, Garvan CW, Kimberlin CL. Pharmacy student comfort in communicating with persons with disabilities. Currents in Pharmacy Teaching and Learning December 2013; 6(2):175-184.
Henderson CD, Broeseker AE, Berry CG, Fort DN, Thomason AR, Cahoon TM, Karlet MC. Interprofessional education sessions involving doctor of pharmacy, bachelor of science in nursing, and nurse anesthetist students. Currents in Pharmacy Teaching and Learning August 2013; 5(5):458-469.
Beall JW, Broeseker AE. Pharmacy students' attitudes toward death and end-of-life care. American Journal of Pharmaceutical Education 2010; 74(6) Article 104.
Buring SM, Bhushan A, Broeseker AE, Conway S, Duncan-Hewitt W, Hansen L, Westberg S. Interprofessional education: Definitions, student competencies, and guidelines for implementation. American Journal of Pharmaceutical Education2009; 73(4) Article 59.
Crandall SJS, Davis SW, Broeseker AE, Hildebrandt C. A longitudinal comparison of pharmacy and medical students' attitudes toward the medically underserved. American Journal of Pharmaceutical Education 2009; 72(6) Article 148.