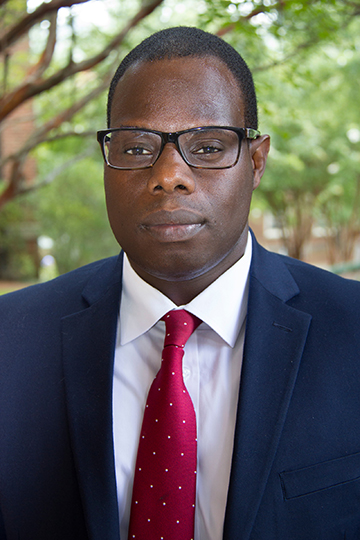 Georges Adunlin
, Ph.D.
Assistant Professor
McWhorter School of Pharmacy
Department of Pharmaceutical, Social and Administrative Sciences
Office: CHS Building 2 2222
Georges Adunlin was drawn to Samford because of its dedication to educating pharmacists who will be competent, committed and compassionate— preparing them to successfully meet the challenges of the ever-changing health care field. He also serves as an investigator within the Center for Healthcare Innovation and Patient Outcomes Research. Prior to Samford, he was an Instructor and National Institute of Health (NIH) Postdoctoral Fellow in Cancer Prevention and Control at Virginia Commonwealth University School of Medicine. His research interests are focused in the areas of pharmacoeconomics and outcomes research. His current work includes the economic evaluations of new and existing cancer screening and treatment technologies. His personal mission to inspire others to discover their purpose and potential has led him to a passion for teaching. 
Degrees and Certifications
Ph.D., Pharmacoeconomics and Health Outcomes Research, Florida A&M University
M.A., Economics, Brooklyn College, City University of New York
B.S., Economics with a minor in Business, Staten Island College, City University of New York
Postdoctoral Fellowship, Cancer Prevention and Control, Virginia Commonwealth University School of Medicine