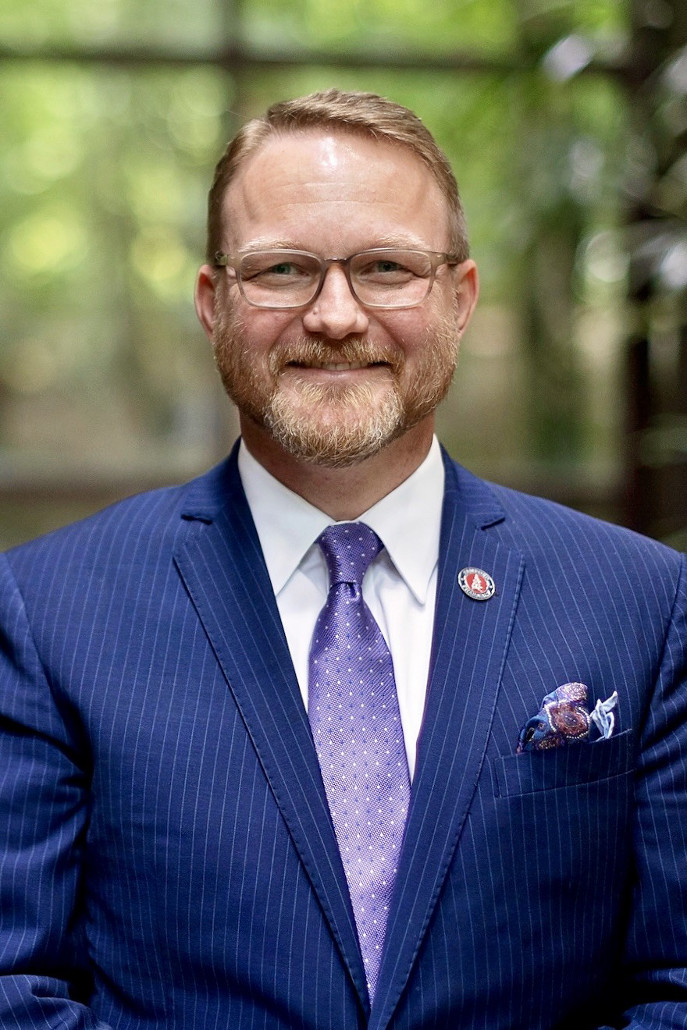 Fred E. McWhorter Dean and Professor
McWhorter School of Pharmacy
Office: CHS Building 1 1480
Michael A. Crouch is the Fred E. McWhorter dean and professor at Samford University's McWhorter School of Pharmacy. His pharmacy training includes a Bachelor of Science in Pharmacy from the University of North Carolina followed by a first-year pharmacy residency at Wake Forest University Baptist Medical Center. Crouch also received a Doctor of Pharmacy degree from the Medical University of South Carolina where he stayed to complete a second-year residency with an emphasis in cardiology.
Before joining Samford University, Crouch served on the faculties at Virginia Commonwealth University (VCU), South University, and East Tennessee State University (ETSU). Administrative appointments have included serving as chair and professor of the Department of Pharmacy Practice at South University, Savannah, Ga., and associate dean for academic affairs at the ETSU Gatton College of Pharmacy, Johnson City, Tenn. In 2012, he was promoted to the position of executive associate dean at ETSU.
Crouch is an accomplished educator, clinician, and researcher. He has dedicated much of his career to educating pharmacy trainees and has received numerous teaching awards. Crouch is a board-certified pharmacotherapy specialist, who also holds added qualifications in cardiology. He is a Fellow of the American Society of Health-System Pharmacists and an active member of the American Association of Colleges of Pharmacy. He has over 100 scholarly publications, including two books: Cardiovascular Pharmacotherapy: a Point-of-Care Guide and Securing and Excelling in a Pharmacy Residency.
God has blessed Crouch with a wonderful wife, Candace, and three children, Jack (age 11), Julia Claire (age 9), and Annie (age 7). In addition to spending time with his family, he enjoys various sports, fly-fishing and playing the guitar.  
Degrees and Certifications
Pharm.D., Medical University of South Carolina
Internal Medicine/Cardiology Pharmacy Residency, Medical University of South Carolina
Pharmacy Practice Residency, Wake Forest Baptist Medical Center
B.S., pharmacy, University of North Carolina Chapel Hill
Expertise
Cardiovascular pharmacotherapy
Awards and Honors
Academic Leadership Fellows Program, American Association of Colleges of Pharmacy, 2011-2012
American Society of Health-System Pharmacists, Fellow, 2009
Excellence in Teaching Award, 2001
Excellence in Teaching Award, 2000
Teacher of the Year Award, 1998
Publications
Wilson A, Crouch MA, Odle BL. Infective endocarditis. In: DiPiro JT, Talbert RL, Yee GC, Matzke GR, Wells BG, Posey LM, editors. Pharmacotherapy: a pathophysiologic approach. 9th ed. New York, New York: McGraw-Hill;1769-86.

Crouch MA , Bishop WS. Build it and they will come: a closer look at expanding inter-professional education at East Tennessee State University. Nurs 21st Cent 2014;1(2):Article 4.

Tackett KL, Crouch MA (corresponding author). Hypertensive crisis: evaluation and management. Bethesda, MD; American Society of Health-System Pharmacists, 2014. Epub; ISBN 978-1-58528-441-2. 

Gleason B, Siracuse MV, Moniri NH, Birnie CR, Okamoto CT, Crouch MA. The evolving landscape of pre-professional pharmacy curricula and its implications. Am J Pharm Educ 2013;77:Article 95.   
Crouch MA, Colucci VJ, Howard PA, Spinler SA. P2Y12 receptor inhibitors: integrating ticagrelor into the management of acute coronary syndrome. Ann Pharmacother 2011;45:1151-6.
Presentations
Crouch MA. One approach to expand, implement and evaluate inter-professional education. Presented at the University of Arkansas for Medical Sciences (UAMS). Little Rock, Arkansas. July 26, 2013.
Beck D, Alston G, Mason N, Crouch MA. Self-studies and accreditation site visits pearls and perils: stories from the trenches. Presented at the American Association of Colleges of Pharmacy 2013 Annual Meeting. Chicago, Illinois. July 13-17, 2013.
Bishop WS, Calhoun LD, Crouch MA. Envisioning the future for the Academic Health Sciences Center: ETSU 125 and inter-professional education. College of Public Health Grand Rounds. Johnson City, Tennessee. February 1, 2013.
Bishop WS, Crouch MA. Practice panel. Partners in education and practice: stronger teams, better health. 2012 Inter-professional Symposium. Philadelphia, Pennsylvania. April 17, 2012.
Crouch MA, Stewart DW. New developments in antiplatelet and anticoagulant therapy. Sixteenth Annual Primary Care Conference. Johnson City, Tennessee. March 27, 2012.
Involvement
Alabama Society of Health System Pharmacists (ALSHP), member
Alabama Pharmacy Association, member
International Pharmaceutical Federation (FIP), member
American Association of Colleges of Pharmacy (AACP), member
American College of Clinical Pharmacy (ACCP), member
American Society of Health-System Pharmacists (ASHP), member