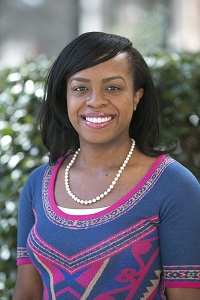 Associate Professor
McWhorter School of Pharmacy
Department of Pharmacy Practice
1408 CHS Building 1
Crystal Deas is a Georgia native and military spouse with experience in a variety of pharmacy settings. Her experience includes a Ferguson Fellowship with the CDC, a previous primary care faculty appointment and various clinical pharmacy specialist positions within the VA health care system. Her favorite scripture is Psalms 37:4-5, Delight thyself also in the Lord; and he shall give thee the desires of thine heart. Commit thy way unto the Lord; trust also in him; and he shall bring it to pass.
Deas feels blessed that the Lord opened the door for her to return to academia as a member of the McWhorter School of Pharmacy faculty, and she is honored to play a role in developing the future of pharmacy.
Degrees and Certifications
PharmD, Xavier University of Louisiana
PGY1 Pharmacy Practice Residency, Grady Health System
Board Certified Pharmacotherapy Specialist, Board of Pharmacy Specialties
Expertise
Ambulatory care, HIV/AIDS specialty care, geriatrics, long-term care and inpatient general medicine
Awards and Honors
Association for Prevention Teaching and Research (APTR), Certificate of Excellence, 2011
Publications
(2015-2020)
Deas C, Clark S, and Freeman MK. Evaluation of Antidiabetic Injectable Technique: Is There an Association between Accuracy and Health Literacy or Duration of Diabetes? Iip. March 2020: 11(1), Article 17.
Skelley JW, Deas CM, Curren Z, and Ennis J. Use of cannabidiol in anxiety and anxiety-related disorders. J Am Pharm Assoc. 2019 Dec 19.
White CW, Kyle JA, Deas CM, and Campbell J. Noncarbapenems for the Treatment of Urinary Tract Infections Caused by Extended-Spectrum β-Lactamase-Producing Bacteria. South Med J. 2019; 112(8):438-443.
Stockton K and Deas C. Evaluation of Outcomes of a Pharmacist-Run, Outpatient Insulin Titration Telepharmacy Service. iip. May 2019:10(2):Article 5.
Deas C and White CW. Pilot Study to Assess Outcomes of a Drug Allergy Clarification Service on a General Medicine Floor at a Local Community Hospital. iip. Nov 2018;9(3):Article 10.
Murphy PZ, Iranikhah M, Deas C, Freeman MK. Fracture Risk Following Discontinuation of Teriparatide: A review of the Literature. Consult Pharm. 2018;33(7):365-75.
Crosby B and Deas CM. Repurposing medications for use in treating HIV infection: A focus on valproic acid as a latency‐reversing agent. J Clin Pharm Ther. 2018;00:1–6.
Deas C, Thomason A, Riggs R, Thomas M, Kendrach M. Use of a Video Module to Improve Faculty Understanding of the Pharmacists' Patient Care Process. iip. May 2018;9(2):Article 9.
Iranikhah M, Deas C, Murphy P, Freeman MK. Effects of Denosumab After Treatment Discontinuation: A Review of the Literature. Consult Pharm. 2018 Mar 1;33(3):142-151.
Sochovka E, Riles J, Deas C, Kyle J. Continuing Education: Psychotropic Drug Interactions: A Review. U.S. Pharmacist 2017 Nov. 38-45.
Kahl C and Deas C. Exercise-Induced Anaphylaxis (EIAn) in an Air Force Aviator taking a HMG-CoA reductase Inhibitor: A Case Report and Review of the Presentation, Diagnoses, and Treatment of EIAn. Military Medicine 2017. May:182(5): e1816-19.
Deas C, Murphy P, Iranikhah, Freeman M. Retained skeletal effects of zoledronic acid following treatment discontinuation: a review of the literature. Consultant Pharm. 2017. March;32(3): 144-55.
Involvement
American Society of Health-System Pharmacists (ASHP)
American Association of Colleges of Pharmacy (AACP)
Alabama Society of Health System Pharmacists (ALSHP)
Alabama Medicaid Drug Utilization Review (DUR) Board