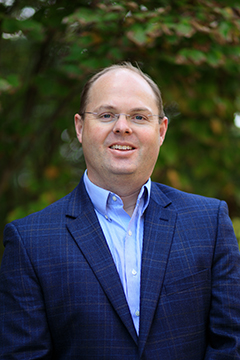 Professor and Director, Faculty Success and Continuing Professional Development
McWhorter School of Pharmacy
Department of Pharmacy Practice
Office: 1449 CHS Building 1
Peter J. Hughes' passion for his work seems to be in his blood. His great-grandfather was a first-generation American citizen and successful community pharmacist in central Illinois. Hughes, an alumnus of McWhorter School of Pharmacy, values the relationships he has built over the years and the opportunities student interaction brings for his personal and professional life. "As a faculty member and director of our continuing pharmacy education program, I am very passionate about teaching individuals of all ages, no matter what their journey in life may be," said Hughes.  "I believe education is a bi-directional process.  If educators don't listen, observe and truly interact with students, they themselves are missing out on valuable educational experiences. It is an honor to work in Samford's College of Health Sciences and interact with our wonderful students, faculty and staff."
Degrees and Certifications
Pharm.D., drug information specialty residency, Samford University
M.S., education, Samford University
B.S., biology, University of Alabama
Board Certified Pharmacotherapy Specialist, Board of Pharmacy Specialties
Preceptor, Alabama Board of Pharmacy
Parenteral Pharmacist, Alabama Board of Pharmacy
Consultant Pharmacist, Alabama Board of Pharmacy
Expertise
Area of Practice: Drug information
Scholarship/Research: Drug information, pharmacy education, professionalism, medication safety, drug development, long-term care pharmacy, medication use 
Awards and Honors
Phi Lambda Sigma
Excellence in Pharmacy Award, Mylan Pharmaceuticals
Involvement
American Association of Colleges of Pharmacy
American College of Clinical Pharmacy
American Society of Health-System Pharmacists
American Pharmacists Association
Reviewer for Journal of the American Pharmacists Association and The Annals of Pharmacotherapy
Holy Family Cristo Rey Catholic High School, board member, Ensley, Ala.