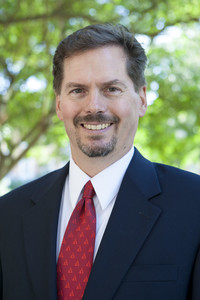 Professor
McWhorter School of Pharmacy
Department of Pharmaceutical, Social and Administrative Sciences
2233 CHS Building 2
After the completion of a postdoctoral fellowship at the University of Virginia, David Luthin moved to San Diego, California to join a small biotech company as a senior scientist in drug discovery.  After four corporate mergers, Luthin became part of a large pharmaceutical company.  After spending 10 years in industry and having climbed the ranks to Associate Director of Pharmacology and project leader of several multi-disciplinary projects in metabolic disease, Luthin left industry to join Samford in 2006.
Luthin's current teaching responsibilities include pathophysiology, Introduction to Pharmaceutical Sciences, Pharmaceutical Sciences II, an elective on Drug Discovery and Development, and an advanced pharmacy practice academic pharmacy experiential.   In addition, he teaches pharmacology topics in Samford's speech language pathology and physical therapy programs within the College of Health Sciences. Luthin enjoys facilitating interprofessional education opportunities, international medical mission work and is very active in community service.
Degrees and Certifications
PhD, pharmacology, Southern Illinois University
BA, zoology, Southern Illinois University
Expertise
Drug Discovery and Development
Interprofessional education
Therapeutic area expertise in neuropharmacology, endocrinology, cardiovascular, gastroenterology and metabolic disease
Awards and Honors
Pharmaceutical, Social and Administrative Sciences Faculty Member of the Year
Phi Lambda Sigma Pharmacy Leadership Society
Superior Scholar Award, 2017
Scholar Award, 2012
Cross and Flame Award, Riverchase United Methodist Church
Involvement
American Diabetes Association, board member, 2009-2016
American Association of Colleges of Pharmacy
American Society for Pharmacology and Experimental Therapeutics
Recent Publications
Luthin, D.R., & Wensel, T.M. (2017). Chronic Idiopathic Constipation: incorporating newer agents into evidence-based care. Power-Pak CE. Continuing Education for Pharmacists and Pharmacy Technicians.  Link.
Baker, J.F., Cates, M.E., & Luthin, D.R. (2017) D-cycloserine in the treatment of post-traumatic-stress disorder (PTSD). Mental Health Clinician, 7(2), 88-94.
Recent Presentations
Luthin, DR, Holston JT, Adams-Mitchell CJ. Impact of an inter-professional concussion awareness program for intramural athletes on students' readiness for interprofessional learning.  National Academies of Practice, Atlanta, GA April, 2018.
Research Areas
Scholarship of teaching and learning
Interprofessional education
Gastroenterology
Metabolic disease
Endocrine disorders
Psychiatric disorders