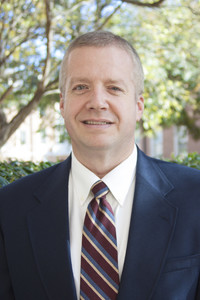 Jonathan M. Parker
, M.A., Ed.S.
Director of Pharmacy Admission
McWhorter School of Pharmacy
Office: CHS Building 1 1131
Jonathan Parker spends a lot of time traveling to different colleges and universities to meet potential applicants to McWhorter School of Pharmacy, and when he returns home, he has plenty to keep him busy and help him unwind. "I own and live on a farm in Cullman, Ala.," he said. "Until December 2005, it was a commercial poultry farm with approximately 48,000 chickens. Now it is a cattle farm with about 50 cattle." A member of the pharmacy school staff since 2002, Parker counts himself fortunate to work at Samford. "I truly believe I have the best job in the world . . . I get to meet some very interesting and nice people, and along the way, I am blessed to make some really great friends. This is where I plan to be until I retire or the Lord calls me home."
Degrees and Certifications
Ed.S., counseling, administration, public relations, The University of Alabama, 2000
M.A., counselor education, student personnel, The University of Alabama, 1992
B.S., psychology, The University of Alabama, 1990
Involvement
PharmCAS/PharmAdMIT/WebAdMIT (National Centralized Pharmacy Application and Records Service) Advisory Panel Member, 2004–present