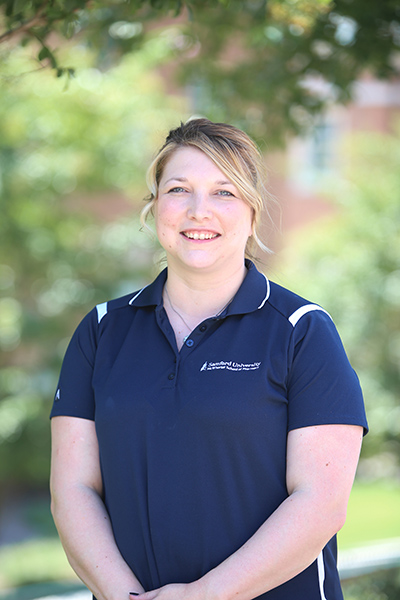 Professor and Director PGY1 Community Pharmacy Residency
McWhorter School of Pharmacy
Department of Pharmacy Practice
Office: 1412 CHS Building 1
Terri Wensel knows the importance of home and family. After the birth of her daughter while living in North Carolina, Wensel and her husband, Brian, wished to return to Birmingham. "This job opened up at the right time for us. I feel fortunate that I was able to stay in academia within a faith-based, private school. This setting allows me to interact with students on a more personal level than I would be able to do elsewhere." Wensel has been involved with a variety of initiatives and courses at the McWhorter School of Pharmacy. "My responsibility as an educator is to enable our students to be the best pharmacists they possibly can be. I enjoy every day with them," she said. Wensel, who loves anything craft related, has a daughter, Claire; son, Ethan; and dog, Lynx.
Degrees and Certifications
Pharm.D., Harrison School of Pharmacy, Auburn University
ASHP Accredited Drug Information Specialty Residency, DCH Regional Medical Center
Board Certified Pharmacotherapy Specialist, Board of Pharmacy Specialties
Tobacco Treatment Specialist, Association for the Treatment of Tobacco Use and Dependence
Expertise
Community Practice
Medication Therapy Management
Tobacco Cessation
Awards and Honors
McWhorter School of Pharmacy Scholar Award, 2013
Involvement
National Community Pharmacists Association, Student Chapter Advisor
American Pharmacists Association
American Association of Colleges of Pharmacy
Alabama Pharmacists Association, District 6 Trustee
Research Areas
Scholarship of Teaching and Learning
Community Pharmacy Practice Models
Recent Publications
Adam C. Pace, Joy Greene, Joseph E. Deweese, Dana A. Brown, Ginger Cameron, James M. Nesbit & Terri Wensel (2017) Measuring Pharmacy Student Attitudes Toward Prayer: The Student Prayer Attitude Scale (SPAS), Christian Higher Education, 16:4, 200-210, DOI: 10.1080/15363759.2016.1250683

Wensel TM, Kyle JA, McCarter M. Implementing MTM for COPD. US Pharm. 2017;42(6):HS-21-HS-28.

Naro P, Beall J, Wensel T, Click E, McCullough B, Heard A. Impact of a community pharmacy based health, wellness and prevention introductory pharmacy practice experience. Pharmacy Education. 2017;17(1):154-158.

Wensel TM. An elective course focused on medication use in the 15th and 16th centuries. Pharmacy Chronicles: Past, Present, and Future. 2017;4: 8, 12-13. 

Wulz JL, Sung H, Dugan BD, Wensel TM, Lander R, Manzella B. The pharmacist role in the development and implementation of a naloxone prescription program in Alabama. J Am Pharm Assoc. 2017;57:S141-S147. DOI 1http://dx.doi.org/10.1016/j.japh.2016.12.078
Recent Presentations
New & Upcoming Medications: 2016 & Beyond. Alabama Pharmacists Association Year-End CE Program. Montgomery, Alabama. December, 2016.

OTC Medications: A Focus on Protecting Your Skin. Samford University McWhorter School of Pharmacy. Birmingham, Alabama. June, 2016.

E-cigarettes and Vaping Exposed: What you need to know about the 'safer' cigarette. Alabama Pharmacists Association Annual Convention. San Destin, Florida. June, 2016.