Published on June 11, 2014 by Katie Stripling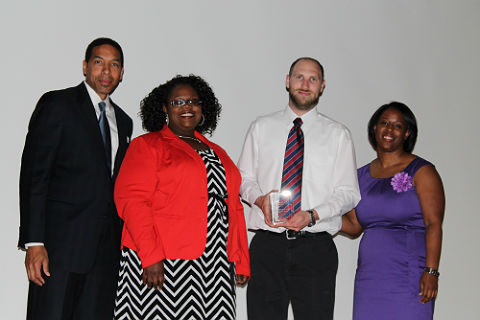 Samford University's McWhorter School of Pharmacy was recently recognized by the American Heart Association's Power to End Stroke program for its efforts to help gain understanding of the issues of stroke in African Americans and the role individuals play in helping to decrease the devastation of this disease. Associate Professor, Dr. Pilar Murphy and third year pharmacy student Josh Knight accepted the award on behalf of the school. 
Under the direction of McWhorter School of Pharmacy faculty Dr. Dee Dugan and Dr. Pilar Murphy, students worked with patients enrolled in the Check-Change-Control program. Students provided education related to blood pressure control, and encouraged consistent blood pressure monitoring to help reduce the likelihood of strokes.  Students engaged with patients in Birmingham at the local YMCA, and in Perry County with patients who were given home blood pressure monitors.