Published on March 17, 2014 by Katie Stripling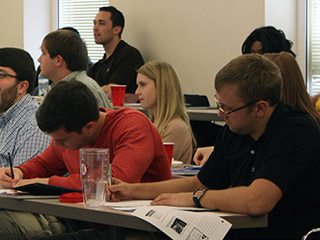 The National Community Pharmacists Association (NCPA) student chapter in the McWhorter School of Pharmacy partnered with Cardinal Health to host an independent pharmacy ownership workshop on February 8 at Samford University. Forty-six pharmacy students from Samford and Auburn University attended the half-day workshop. Students participated in lectures and breakout groups that covered topics involving independent pharmacy ownership and how to run a successful business. Example topics included managed care, financial planning, independent pharmacy best practices, pharmacy start-ups and acquisitions, and current emerging trends in independent pharmacy that can affect financial reimbursement.
Cardinal Health sponsored the lunch and provided a number of exceptional speakers, all of whom are experts in their fields who shared unique insight into the world of independent pharmacy ownership.
According to Dr. Jessica Skelley, Assistant Professor of Pharmacy Practice, providing this workshop presented an important opportunity to promote the unique advantages of small business ownership within the realm of pharmacy. "Many of the students walked away from the workshop very energized and excited," said Skelley. "In fact, the biggest request from students we received on feedback was that they wanted the workshop to last even longer- many of our question and answer sessions ran well over time, and several students stayed after the end to continue discussions with our speakers from Cardinal Health."
As one of the chapter organization advisors for NCPA, Dr. Skelley assisted in planning and coordination of the workshop along with leadership at Cardinal. Also assisting was Josh Knight, Samford NCPA chapter president and a third year student, and Leanne Justis, also a third year student and a student officer in NCPA.