Published on June 16, 2016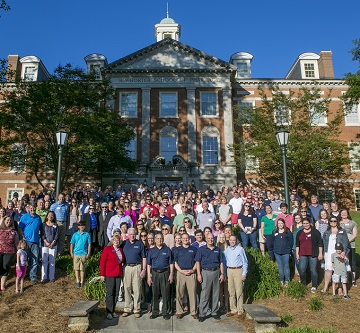 On Saturday, April 23 alumni, students, faculty, staff and friends gathered to Celebrate Ingalls Hall. After 59 years in its current home in Ingalls, McWhorter School of Pharmacy will relocate to the new College of Health Sciences facilities on east campus in fall 2016. 
"Our school has a long history in Ingalls and it was fun to remember all of the milestones along the way," said Michael A. Crouch, pharmacy school dean.
The celebration included family fun, dinner on the Quad and a program in Reid Chapel highlighted by remarks from all living deans of the school. It also entailed a tribute to the legacy of Mr. Clayton McWhorter who passed away early this year.
The event closed by honoring two retiring staff members. After 35 years leading admissions, Bruce Foster will retire in August. According to Crouch, for many alumni, Foster is the reason they chose pharmacy, Samford, or both. Monty Hogewood, director of development and alumni affairs, will retire in June, after 25 years at Samford.