Published on March 9, 2017 by Sarah Waller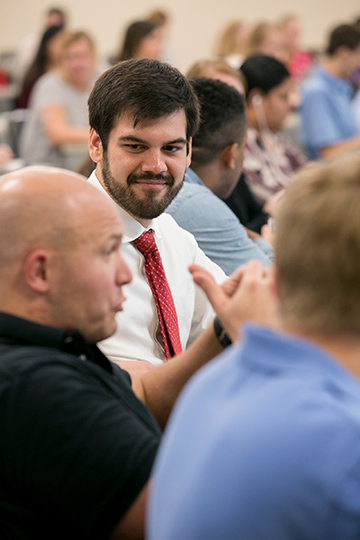 By Olivia Odom
Samford University's McWhorter School of Pharmacy not only offers continuing education opportunities for pharmacists, it also provides educational opportunities for pharmacy technicians, a role that is in high demand.
The school's Pharmacy Technician Education Program is an eight-week certificate program taught by McWhorter School of Pharmacy faculty. The program is conveniently taught online, but faculty are readily available by email and often willing to meet in-person to provide students with the best support possible.
The next course begins Thursday, March 30.
Those who successfully complete the course requirements and pass the final exam will receive a certificate of completion—all with the purpose of preparing students to sit for the Pharmacy Technician Certification Board examination.
 "The role of a pharmacy technician is vital in the day-to-day operation of a pharmacy, and we are proud to offer this certificate program that can empower technicians with knowledge and confidence," said John Arnold, associate professor and director of pharmacy technician education.
The program's tuition is $899, which includes the Alabama Board of Pharmacy Technician registration fee and textbooks. The price does increase to $1,099 if one registers after March 24.
Students must be a registered pharmacy technician with the Alabama Board of Pharmacy in order to be in the program and have a passport sized photo to upload to the Board of Pharmacy website.
For more information and to register, please visit the program's website or contact John Arnold at jarnold@samford.edu or 205-726-4040.
Olivia Odom is a journalism and mass communication major and a news and feature writer in the College of Health Sciences.