Published on March 28, 2018 by Sarah Waller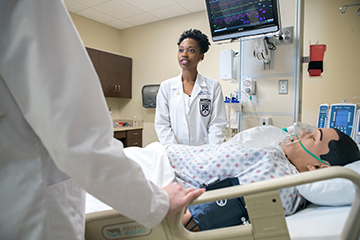 In honor of Women's History Month, Samford University's McWhorter School of Pharmacy is proud to announce the formation of its Women in Pharmacy Leadership group, which will be composed of Samford pharmacy alumnae who are dedicated to supporting and mentoring female pharmacy students. 
The announcement includes the development of a scholarship endowment, establishing a formal mechanism to identify women within McWhorter School of Pharmacy who exhibit professional leadership potential. 
Despite women composing more than half of all pharmacists in the United States, many still struggle to occupy leadership positions within the profession, particularly at senior leadership levels. This group will support mentoring students to pursue these leadership positions.   
"I'm incredibly proud to see this endowment come to fruition," said Michael Crouch, dean of McWhorter School of Pharmacy. "Women are inspiring change throughout the profession, and this new group and related endowment provide a clear path and financial support to future female leaders in pharmacy."
Part of the focus of this group is to help mentor and guide female students on how they can best position themselves for success after graduation, while at the same time raising funds to provide academic scholarships.
To learn more about Women in Pharmacy Leadership, including how to join, go to samford.edu/pharmacy/women-in-pharmacy-leadership.