Published on April 14, 2020 by Sarah Waller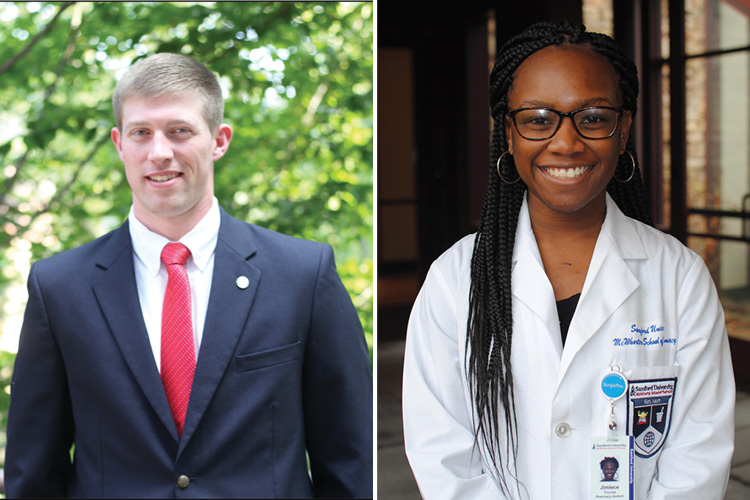 Samford University's McWhorter School of Pharmacy announced the recipients of two prestigious awards this week: the Cardinal Health Independent Pharmacy Scholarship and the Excellence in Public Health Pharmacy Award. 
These awards are traditionally announced during the school's professional pinning ceremony for third-year Doctor of Pharmacy students.
Mason Sykes is this year's recipient of the Cardinal Health Independent Pharmacy Scholarship.
Established in 2012, the scholarship provided by Cardinal Health is the largest award given at McWhorter School of Pharmacy, providing full tuition for the final year of the program. The school awards the scholarship annually to a rising fourth year student who "demonstrates interest in and commitment to independent pharmacy ownership and who is in good academic standing."
Applicants of the scholarship go through a rigorous selection process that includes an initial application—followed by finalists completing a case analysis, presentation and question and answer session with a committee composed of community pharmacy practitioners (many of which own their own pharmacies).
The three finalists for this year included Ryan Oakley, Randy Odom and Sykes.
In addition, Jimiece Thomas was named the recipient of the Excellence in Public Health Pharmacy Award. This prestigious award, presented by the U.S. Public Health Service, recognizes Thomas for her significant contributions to public health by promoting wellness and healthy communities.  
The award was given to 89 pharmacy students throughout the country, and these students are evaluated specifically on their contributions to voluntary health related services, an emerging public health issue, or contributions that advance the goals of Healthy People 2030 or the National Prevention Strategy.