Published on April 21, 2021 by Sarah Waller  
Following a positive trend of recent years, the results of the pharmacy residency match, facilitated by the American Society of Health-Systems Pharmacists (ASHP), displayed strong numbers for students and graduates of Samford University's McWhorter School of Pharmacy
A total of 43 students and graduates matched with a residency, including 33 fourth-year Doctor of Pharmacy students who matched with an ASHP-accredited postgraduate year one (PGY1) residency. In addition, 10 recent graduates secured an ASHP-accredited postgraduate year two (PGY2) residency. These results placed McWhorter School of Pharmacy in the top third of all schools of pharmacy in the country for the number of matches.
"Over the past five years, we have seen an increasing interest in pharmacy residencies by our students, and our faculty and staff work diligently to support those who apply and help them achieve their goals," said Michael Crouch, dean of McWhorter School of Pharmacy. "We are incredibly proud of all 43 students and graduates who matched with a residency program this year."
While Doctor of Pharmacy graduates are not required to complete a residency before they begin practice, pharmacy residencies are designed to provide additional pharmacy practice experience in a specific area of interest.
McWhorter School of Pharmacy students and graduates matched with PGY1 and PGY2 residencies in 13 states across the country with a diverse range of specialties, including pediatrics, community pharmacy, ambulatory care, infectious diseases, health system administration, oncology, organ transplant and more.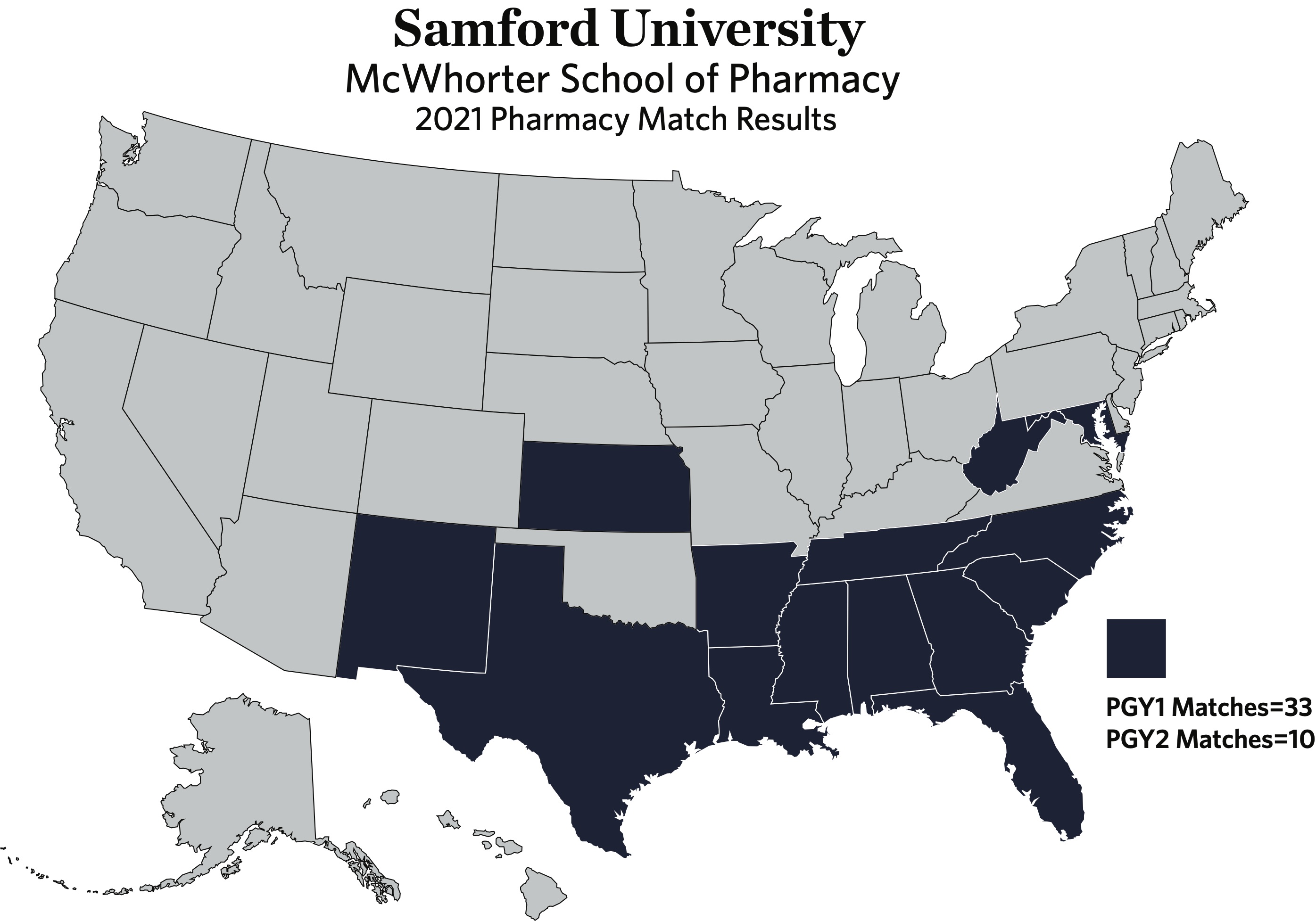 Fourth-year students who matched with a PGY1 residency include:
Kellie Ball, University of Tennessee Medical Center in Knoxville, Tennessee
Logan Boone, Prisma Health Richland - University of South Carolina in Columbia, South Carolina
Alex Boot, Ascension Sacred Heart in Pensacola, Florida
Sara Burks, Birmingham VA Health Care System in Birmingham, Alabama
Evan Claxon, HCA Healthcare / University of Tennessee College of Pharmacy in Nashville, Tennessee
Zac Curren, The University of Kansas Health System in Kansas City, Kansas
Sally Falahat, Ascension Via Christi in Wichita, Kansas
Kendall Foshee, Erlanger Health System in Chattanooga, Tennessee
Traci Fuller, Ascension Sacred Heart in Pensacola, Florida
Timothy Garrett, Texas Tech School of Pharmacy/Community Pharmacy in Dallas, Texas
Jennifer Gentile, University of Tennessee Medical Center in Knoxville, Tennessee
Jordan Graves, Tuscaloosa VA Medical Center in Tuscaloosa, Alabama
Elise Grove, Mission Hospital in Asheville, North Carolina
Seth Hinkle, Ascension St. Thomas Hospital Midtown in Nashville, Tennessee
Krystin Howard, Central Arkansas Veterans Healthcare System in Little Rock, Arkansas
Lacey Hughes, Birmingham VA Health Care System in Birmingham, Alabama
April Jones, Children's of Alabama in Birmingham, Alabama
Holly Mize, Self Regional Healthcare in Greenwood, South Carolina
Yelitza Nieves Prosper, Samford University McWhorter School of Pharmacy in Birmingham, Alabama
Randy Odom, Ochsner Health in New Orleans, Louisiana
Stephen Parker, Gulf Coast Veterans Health Care System in Biloxi, Mississippi
Ally Ponder, Memphis VA Medical Center in Memphis, Tennessee
Alivia Price, Tuscaloosa VA Medical Center in Tuscaloosa, Alabama
Lindsey Ricchetti, Birmingham VA Health Care System in Birmingham, Alabama
Avery Roberson, Cabell Huntington Hospital in Huntington , West Virginia
Erin Rountree, Huntsville Hospital in Huntsville, Alabama
John Shadowen, Mobile Infirmary Medical Center in Mobile, Alabama
Jimiece Thomas, Memorial Regional Hospital in Hollywood, Florida
Cruz Tidwell, Tuscaloosa VA Medical Center in Tuscaloosa, Alabama
Jillian Walters, Johns Hopkins Bayview Medical Center in Baltimore, Maryland
Macy Wigginton, USA Health University Hospital in Mobile, Alabama
Kenny Wilson, University of New Mexico Hospitals in Albuquerque, New Mexico
Aly York, Prisma Health Richland / University of South Carolina in Columbia, South Carolina