This fall, McWhorter School of Pharmacy will welcome 93 first-year Doctor of Pharmacy students as members of its Class of 2027. Then, in October, these students will take an important step in their professional journey by receiving their white coat.
We invite McWhorter School of Pharmacy alumni, parents and friends to help make this milestone even more special by sponsoring a white coat. By making a gift of $100, you can cover the cost of a white coat for a first-year student and contribute to student scholarships.
Becoming a sponsor is an exciting and rewarding way to make a personal connection with our first-year class. As a sponsor, you will also have the opportunity to include a note of congratulations in the pocket of the student's white coat, and your name will be announced as part of the ceremony.
How to Make Your Gift
To sponsor a white coat, make your gift online. Each sponsorship is $100 and it covers the cost of one white coat. You may sponsor more than one white coat.
After making your gift, we will notify you of the student whose coat you will be sponsoring and provide a blank card for you to write a note of congratulations. This note will be included in the pocket of the white coat given to the student at the October ceremony.
If you have any questions, you can contact Victoria Allen, senior advancement officer, at vallen2@samford.edu. 
Save the Date, White Coat Ceremony
McWhorter School of Pharmacy's White Coat Ceremony will take place on Friday, Oct. 6, at 2 p.m. We would love for you to attend the event in person at Shades Mountain Baptist Church, or you can watch via livestream at McWhorter School of Pharmacy's Facebook page.
The Significance of the White Coat
The White Coat
The white coat has humble beginnings as a protective garment when working in the lab or caring for patients, but it's now clearly an emblem of health care. To some, the white coat is a symbol of knowledge, skills and abilities; to others a symbol of purity; and, yet to others a symbol of healing. But most importantly, it's a symbol of professionalism and trust. Students, your white coat is a covenant between you and the patients you serve.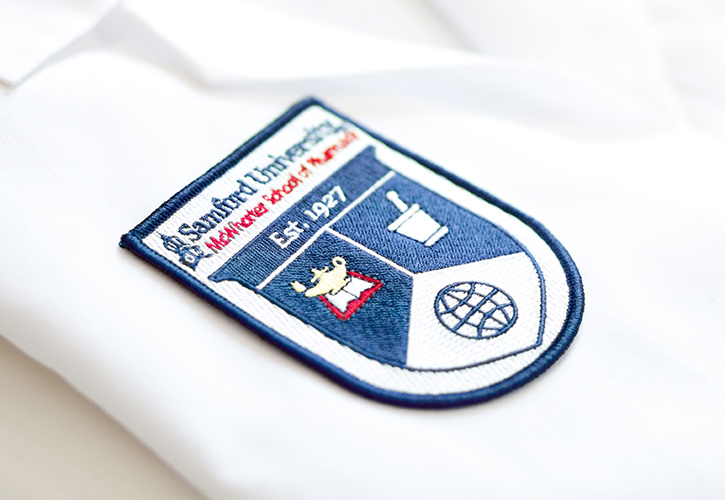 The Patch
Unique to Samford's McWhorter School of Pharmacy, our patch represents who we are and our mission: to prepare students in a nurturing, Christian environment to be exemplary pharmacists and improve health worldwide. In addition to the school's name and the year it was established, 1927, the patch includes a shield with three panels. The first panel is the lamp of learning, combined with the second panel, a mortar and pestle. Collectively, these panels represent the first part of our mission: to prepare students to be exemplary pharmacists. The final panel at the bottom of the shield is a globe, symbolizing the second part of our mission: to improve health worldwide.