Published on June 16, 2020 by Sean Flynt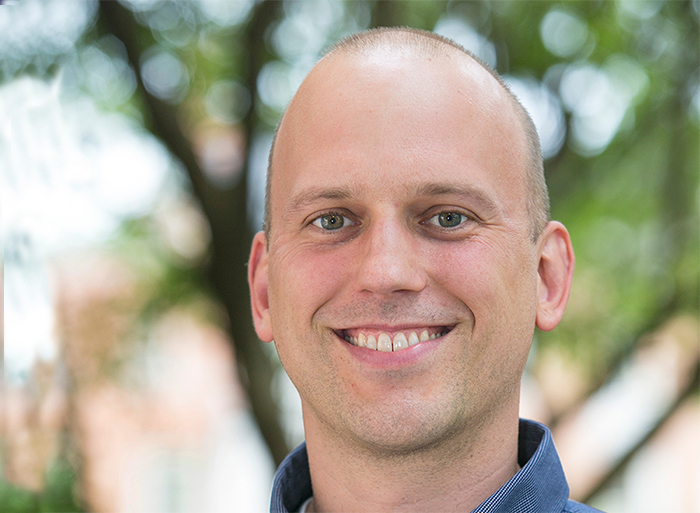 Samford University religion professor and alumnus Josh Reeves '98 has been named a Fellow of the International Society for Science and Religion (ISSR). The honor places him in the company of 200 of the world's most distinguished scholars in the field, selected for their major contributions, standing in their respective fields, sustained engagement with the science and religion debate, scholarly promise or organizational and entrepreneurial skills within the science and religion field.
"I was especially glad to be invited as a Fellow of the ISSR because so many of my intellectual heroes are part of that society–scholars like John Polkinghorne, Peter Harrison, Alister McGrath and Nancey Murphy," Reeves said. "They were instrumental in showing that Christianity and modern science need not be seen in conflict."
Reeves has an impressive record across every ISSR Fellows nomination category. In addition to his many books, articles and presentations in science and religion, Reeves has brought to Samford hundreds of thousands of dollars in grants to support symposia and special lectures over his many years of association with the university's Center for Science and Religion.
"I am thrilled at the news of Dr. Reeves's election as a Fellow of the ISSR," said Tim Hall, dean of Samford's Howard College of Arts and Sciences. "This prestigious honor is a testimony to his achievements and ground-breaking work at the intersection of science and religion. We are honored to have him serve as Director of the Center for Science and Religion, where he is helping to advance our understanding of this field among students and faculty."
Samford provost J. Michael Hardin expressed pride not only in Reeves's accomplishments, but in what the ISSR honor reveals about the whole Samford community. "International recognition of this kind would reflect well on any institution, but it's especially gratifying that the ISSR honor is so well aligned with Samford's mission," he said. "We have the faculty, resources and will to be deeply involved in this important dialogue, and have made it a priority for many years."
Reeves praised Samford's broad institutional investment in the integration of faith and learning, which is what motivates all his teaching and research. "The reality," he said, "is that there are many outstanding scholars who do not have such an opportunity because they do not have a platform." He also noted the dedication of faculty colleagues in creating that platform. "I was very fortunate to find my way back to Samford in 2012 because I was able to build upon the hard work of the founders of the Samford Center for Science and Religion–Steve Donaldson, Tom Woolley, George Keller and Wilton Bunch," Reeves said. "Their vision was to establish an internationally-recognized center for Samford's campus, and I think this helps to show that they were successful." Computer science professor Steve Donaldson, founding director of the center and Reeves's co-author, died in 2018, but Reeves knows what his colleague would make of the ISSR honor. "It makes me smile to imagine what Steve's reaction would have been."